Presidential Candidates Preach Cheaper Drugs Not Safer Drugs
Fact-Checked
Editors carefully fact-check all Drugwatch content for accuracy and quality.
Drugwatch has a stringent fact-checking process. It starts with our strict sourcing guidelines.
We only gather information from credible sources. This includes peer-reviewed medical journals, reputable media outlets, government reports, court records and interviews with qualified experts.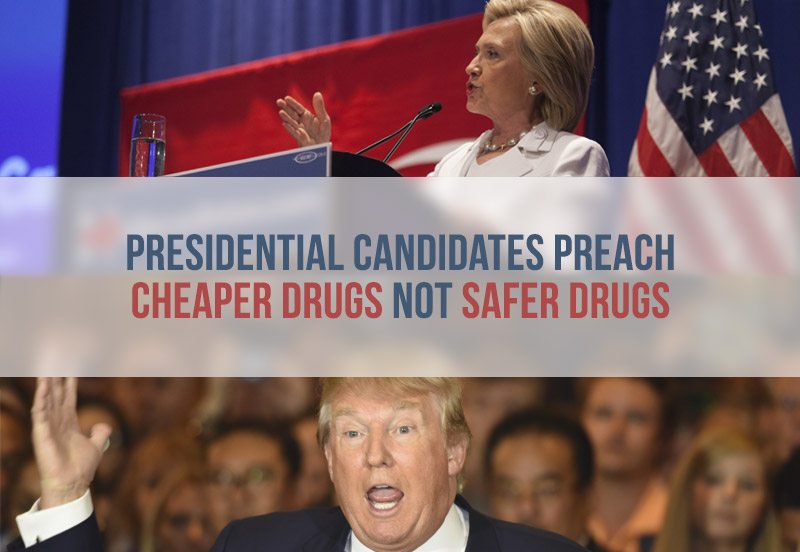 Whether they want to fix ObamaCare, expand it or repeal it, the top U.S. presidential candidates are focusing on cheaper and easier health care access to get votes from the American public.
With topics like immigration, same-sex marriage, gun control and the war against terrorism, health care tends to take a backseat in political debates. In the most recent republican debate it was the last topic discussed.
When health care does come up, candidates hone in on voter's wallets by talking about the rising costs of prescriptions drugs, the growing cost of cancer treatment, universal health care access and reforming Medicare and Medicaid.
However, none of them talked about the U.S. Food and Drug Administration clearance process that allowed medical devices like power morcellators, transvaginal mesh and retrievable intra vena cava (IVC) filters to harm the public. The devices caused the spread of uterine cancer, organ and vein perforation, and other painful complications.
The clearance process is under investigation by the Government Accountability Office and a congressman recently proposed a bill to remove a controversial birth control device cleared by the FDA. Meanwhile, the agency continues to approve drugs that its own reviewers warned against like Xarelto and Eliquis.
Don't expect the candidates to talk about the drugs and devices that harm hundreds of thousands of Americans every year in the upcoming debates though. They may want everyone to have health care access, but they haven't talked about how safe the health care is when patients get it.
Presidential Candidates on Health Care
Candidates differ on the problems with the health care system and the ways to fix it. They all agree things could be better, and they're all confident their plan is the best way to fix things.
Trump: 'Obamacare's a disaster'
Donald Trump uses his favorite keywords when talking about health care.
"Obamacare's going to be repealed and replaced," Trump said during an interview on 60 Minutes in September. "Obamacare's a disaster."
His plan to fix it? "I'm going to take care of everybody," he said during the interview. He said he'd do so by making the government pay for health care, and it'd be cheaper because he'd negotiate great plans and increase competition among insurance providers.
Trump also made a push for improving health care for veterans. According to his campaign website, he'd ensure veterans get the health care they need, both physical and mental. He'd transform the Department of Veterans Affairs, end waste and provide better support for female veterans. Like many great Trump goals, he hasn't outlined specific ways for achieving them.
Clinton: 'I want to strengthen the Affordable Care Act'
Former U.S. Secretary of State Hillary Clinton wants to make the system she helped develop better.
"I want to strengthen the Affordable Care Act," Hillary Clinton said in an Iowa forum in October. That strengthening focuses on capping prescription drug expenses, ensuring affordable doctor visits and reclassifying emergency visits.
Clinton's campaign website lists numerous ways to decrease copays, deductibles and prescription drug costs. Buried in it all is one positive for drug safety. In order to reduce drug costs, she wants to stop direct-to-consumer advertising subsidies for Big Pharma.
Clinton would eliminate corporate write-offs for DTC ads and establish procedures in which the FDA must clear ads for clarity and understandability before they reach consumers. The plan doesn't make drugs and devices safer, but it might make consumers more informed.
Carson: 'More freedom and less government'
Dr. Ben Carson has been talking about health savings accounts (HSAs) since the 90s. He wants to simplify health care by replacing Obamacare, Medicare and Medicaid and putting money into HSAs for every American every year.
"Health savings accounts empower families to make their own decisions about their medical treatment," Carson says on his campaign website. "HSAs will also drive down health care costs while protecting patient choice and freedom. More freedom and less government in our health care system will mean lower costs, more access, and continued innovation."
But according to The New York Times, Carson has changed plans for implementing HSAs so much that it's become confusing. In an October interview on Fox News, Carson couldn't get anchor Chris Wallace to understand the plan, and Wallace and the American public remained confused as to what exactly Carson was proposing.
Regardless of how he's going to try to save money on health care, he's been quiet about patient safety.
Sanders: 'We need a new leader at the FDA'
U.S. Sen. Bernie Sanders doesn't like how cozy the FDA is with pharmaceutical companies. That's why he opposed Obama's nomination of Dr. Robert Califf, a renowned health care expert with ties to the pharmaceutical industry.
"At a time when millions of Americans cannot afford to purchase the prescription drugs they need, we need a new leader at the FDA who is prepared to stand up to the pharmaceutical companies and work to substantially lower drug prices," Sanders said in a press release. "Unfortunately, I have come to the conclusion that Dr. Califf is not that person."
Unfortunately, the FDA doesn't have any authority to control drug prices. It would have been more comforting if he demanded a commissioner that would stand up to pharmaceutical companies seeking approval or clearance for dangerous drugs and devices.
Sanders is an advocate for women's rights, improving the VA, universal access to health care and lowering prescription drug prices.
Bush: 'We won't force people to buy coverage'
Of the top Republican candidates, former Florida governor Jeb Bush is one of the few who has offered a detailed plan to go along with his ambitious goals. His main argument for health care access is to not force it on people who don't want it.
"We won't force people to buy coverage they don't want either because they don't need it or it violates their conscious," Bush told CNN.
According to Bush's campaign website, he also wants to modernize the FDA. But modernization doesn't mean improved safety. He wants to accelerate clinical trials and allow manufacturers to share "truthful, non-misleading scientific information" to help spur innovation. But Big Pharma has a history of corrupting clinical trial data and accelerated approval processes can lead to dangerous drug approvals.
Cruz: 'I've been proud to lead the fight to stop Obamacare'
U.S. Sen. Ted Cruz would repeal the Affordable Care Act and propose "commonsense" reform measures if elected president, according to an August interview on C-SPAN.
"I've been proud to lead the fight to stop Obamacare in the U.S. Senate, and against the Washington cartel," Cruz said. "There are a lot of politicians in Washington that have largely given up. They don't believe Obamacare can ever be repealed, including, sadly, a fair number of Republicans."
He wants to expand competition, empower patients, and take power away from bureaucrats. His plan for doing so includes allowing health insurance to be purchased across state borders, expanding HSAs and removing health insurance from employment.
Rubio: 'ObamaCare is fatally flawed'
U.S. Sens. Marco Rubio and Cruz issued a joint statement alongside U.S. Sen. Mike Lee stating they refused to support any measure that did not fully repeal Obamacare.
"ObamaCare is fatally flawed not just because it is poorly constructed, but because it relies on the outdated philosophy that the federal government can solve our problems through more spending, more taxes, more regulations, and more bureaucrats," Rubio wrote in Politico in August.
Rubio's plan to reform health care includes offering tax credits for those who purchase health insurance, reforming insurance regulations and reforming Medicare and Medicaid.
O'Malley: 'We have to eliminate the profit motive'
Former Maryland governor Martin O'Malley thinks the U.S. could save money on health care costs by preventing avoidable hospital readmissions.
"Hospital CEOs keep their hospitals solvent by keeping the beds filled" O'Malley said in August. "We have to eliminate the profit motive."
According to his website, O'Malley has 15 goals to improve America. Two of them involve health care, but unlike other candidates he doesn't have a goal of reducing costs or expanding coverage.
Instead, O'Malley wants to reduce deaths from drug overdoses by 25 percent by 2020, and reduce infant mortality by 10 percent by 2020. He has a plan for reducing the over-prescription of pain medications, expanding access to treatment for addictions and investing in community resources.
Candidates Quiet on Dangerous Drugs and Devices
Make no mistake, access to health care is important. Affordable health care is important. The VA let down veterans for too long, and the FDA let women down for too long. These are all important issues.
But drug and device safety is important too.
Most Americans don't know what power morcellators are or what transvaginal mesh is. The devices cleared through a flawed FDA process caused tens of thousands of women permanent damage and in some cases death.
Most people think testosterone is safe because the hormone is produced naturally in the body. Millions of Americans don't know drug companies invented terms like "Low T" and marketed drugs like AndroGel to men to treat natural symptoms of aging. The drugs face thousands of lawsuits from men claiming they caused heart attacks or strokes.
"There's no education. There's nothing being said on TV," Estelle Tasz, a woman who underwent more than 12 surgeries from transvaginal mesh complications, told Drugwatch's Michelle Llamas.
People harmed by the drugs and devices fight for compensation in court rooms. They protest outside the FDA building. They want to prevent others from experiencing what they went through.
The FDA has a problem with allowing dangerous drugs and devices to reach consumers. Big Pharma has a problem with marketing dangerous drugs and devices to the public.
It's time the people who want to lead our country talk about fixing those problems.
Share This Page:
How can we improve this page?
Thank You for Your Feedback
We appreciate your feedback. One of our content team members will be in touch with you soon.
We appreciate your feedback. One of our content team members will be in touch with you soon.