Testosterone Heart Attack, Blood Clot Bellwether Trials Set
Fact-Checked
Editors carefully fact-check all Drugwatch content for accuracy and quality.
Drugwatch has a stringent fact-checking process. It starts with our strict sourcing guidelines.
We only gather information from credible sources. This includes peer-reviewed medical journals, reputable media outlets, government reports, court records and interviews with qualified experts.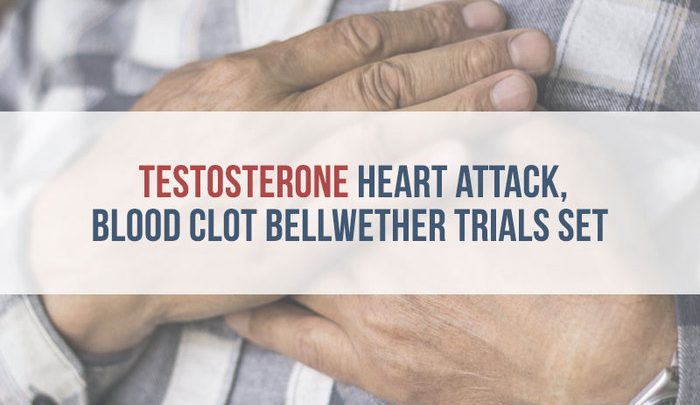 Eight lawsuits that allege testosterone drugs caused heart attacks and blood clots will be heading to trial in 2017, according to court documents.
In August 2016, U.S. District Judge Matthew Kennelley signed an order selecting four heart attack and stroke claims and four blood clot cases for bellwether trials. The outcome of these cases could likely influence future litigation in more than 6,000 testosterone lawsuits pending before Judge Kennelley in The Northern District of Illinois.
The judge consolidated these claims in multidistrict litigation (MDL) number 2545. More than 5,000 of these cases name AbbVie as the defendant.
These eight bellwether cases allege AbbVie — the maker of AndroGel — knew about the risk of cardiovascular issues such as heart attack, stroke and blood clots but did not warn patients and doctors, among other claims.
"The parties should assume that the Konrad case (Case No. 15 C 966) will be the first case tried, assuming it survives until trial," Judge Kennelley wrote in his order. "The Court reserves for later determination the sequence of the remaining cases."
Jeffrey Konrad's lawsuit is the first scheduled for trial in 2017.
Lawsuits Say AndroGel Caused Heart Attacks
Konrad filed suit against AbbVie after he suffered a myocardial infarction, according to court documents. He began taking AndroGel on May 5, 2010. Just two months later at the age of 49, Konrad suffered a heart attack despite no history of heart problems.
He experienced shortness of breath and chest pressure after being on the treadmill for 10 minutes. Doctors hospitalized him and placed a left ventricular stent in his heart. Plaintiff attorneys chose this case because of key facts that they feel represent a number of other cases in the MDL.
"While Mr. Konrad's usage of AndroGel was relatively short, a short duration usage case is representative of the overall pool of AndroGel plaintiff cases and litigating this issue would be instructive to hundreds, if not thousands of other cases where short duration of use is alleged before a MI," attorneys wrote in court documents.
Another bellwether plaintiff, Jesse Mitchell, used AndroGel for five years. Like Konrad, he was 49 when he had a heart attack. Mitchell ended up in the hospital for five days where doctors removed blood clots and placed stents. He was also in a coma for two days and suffered kidney failure.
Mitchell smokes and has a family history of heart attacks. His case represents a portion of other cases with similar risk factors, plaintiff's attorneys said.
"To obtain the greatest benefit from the bellwether process, the cases selected for bellwether trials should offer guidance to the majority of other cases in the litigation," plaintiff's attorneys wrote in the initial bellwether proposal in July 2016. "The purpose of selecting initial trial cases from a large pool of bellwether discovery cases is to learn and test general issues for the benefit of all—the Court, Plaintiffs, and Defendants."
'Low T' a Multibillion Dollar Industry
Testosterone replacement products bring in billions for drug companies each year. Some experts say that number could reach $5 billion by 2017.
Critics say drug companies pushed misleading ads to men seeking the fountain of youth. In 2014, consumer watchdog group Public Citizen petitioned the FDA to include a black box warning — the agency's most severe — on safety labels.
"[The FDA] has not concluded that FDA-approved testosterone treatment increases the risk of stroke, heart attack, or death," the agency initially responded to the petition.
But in 2015, the FDA reconsidered and ordered drug makers to add stroke and heart attack warnings to labels and safety information.
"The real question here is why the FDA didn't do something sooner. This decision they made was based on the same data provided with the petition over a year ago," Wolfe previously told Drugwatch. "There was no question these drugs were harmful. The FDA's own advisory committee agreed."
Share This Page:
How can we improve this page?
Thank You for Your Feedback
We appreciate your feedback. One of our content team members will be in touch with you soon.
We appreciate your feedback. One of our content team members will be in touch with you soon.