FDA Backs Xarelto Benefits Despite Recalled Clinical Trial Device
Fact Checked
Fact-Checked
Editors carefully fact-check all Drugwatch content for accuracy and quality.
Drugwatch has a stringent fact-checking process. It starts with our strict sourcing guidelines.
We only gather information from credible sources. This includes peer-reviewed medical journals, reputable media outlets, government reports, court records and interviews with qualified experts.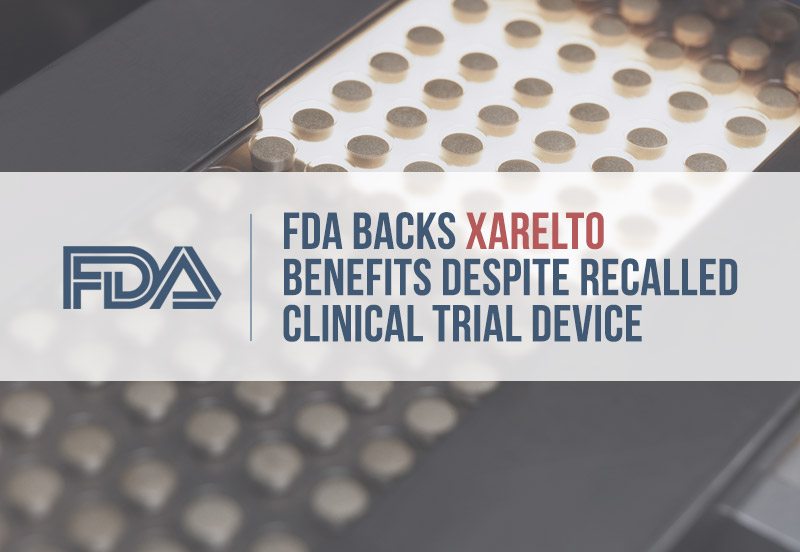 After critics accused Johnson & Johnson and Bayer of hiding data in clinical trials for their blockbuster blood thinner Xarelto (rivaroxaban), the U.S. Food and Drug Administration said the drug is safe and effective.
Since its approval in 2011, Xarelto has made billions for J&J and Bayer. On Oct. 11, 2016, the FDA released its reanalysis of the ROCKET AF clinical trial data — the original trial used to approve Xarelto. According to the agency, the drug is still a safe and effective alternative to warfarin despite a faulty device used in the clinical trials.
The FDA conducted the reanalysis after The BMJ and other critics questioned trial results following the discovery that the INRatio — a device used to administer warfarin to patients in the trial — was faulty. In 2014, the FDA recalled the INRatio device because it could deliver significantly lower results than a lab method, resulting in warfarin patients receiving too high of a dose and an increased risk of bleeding. Alere, the device's manufacturer, said it received 18,924 reports of malfunctions, 14 of which led to serious injuries.
J&J knew early on about the device malfunction and launched the Covance safety program to check the accuracy of test results.
"But Janssen failed to share these data with the trial's data safety monitoring board, Bayer (co-developer of rivaroxaban), and the FDA prior to drug approval, despite the safety of trial participants potentially being compromised," The BMJ said in a press release.
Despite concerns, the FDA found the faulty device did not influence trial results.
"The FDA has completed a variety of analyses to assess the impact that this faulty monitoring device had on the Rocket-AF study results," the agency said in a statement. "The Agency has determined that effects on strokes or bleeding, including bleeding in the head, were minimal."
Experts Question Ethics and Lack of Action from Regulators
Some investigators feel J&J's failure to share data with regulators is a question of ethics and still casts doubt on the safety and efficacy of Xarelto. The European Medicines Agency also conducted a review in February 2016. Like the FDA, it ruled in favor of Xarelto.
Thomas Marciniak, a former FDA official who was one of the Xarelto reviewers, told The BMJ that J&J's data was "worthless" because "inaccuracies are not limited to the recall patients." He also said the EMA ignored "serious device inaccuracies" and called the agency's review a "whitewash."
The New England Journal of Medicine published its own independent reanalysis and ruled in favor of J&J. Critics question how independent the reanalysis was because employees of J&J and Bayer are members of the committee that carried it out, the BMJ said.
"The implications are we still do not know whether this is a safe drug," Carl Heneghan, professor of evidence-based medicine at Oxford University, told The BMJ. "We need a trial to assess the safety and efficacy of rivaroxaban. Just one caveat — it should be run independently."
Xarelto Bleeding Lawsuits in U.S. Continue to Mount
Meanwhile, the controversy over the drug continues and lawsuits continue to pile up in federal and state courts. Plaintiffs say J&J and Bayer failed to warn them of the severe bleeding risks caused by Xarelto. Close to 11,000 federal lawsuits are currently pending before U.S. District Judge Eldon E. Fallon in Louisiana.
Judge Fallon delayed the start of the first bellwether trial originally scheduled for February 6, 2017. That plaintiff — a Louisiana man who suffered stomach bleeding after taking Xarelto — will now begin his trial March 13. The second bellwether involves a woman who suffered a fatal brain hemorrhage after taking the drug. The judge postponed that trial until April 24.
Share This Page:
Thank you for your feedback. Do you have any thoughts you'd like to share about Drugwatch.com?
How can we improve this page?
How can we improve this page?
Thank You for Your Feedback
We appreciate your feedback. One of our content team members will be in touch with you soon.
We appreciate your feedback. One of our content team members will be in touch with you soon.