FDA Announces Generic Zantac Recalls Amid Cancer Concerns
Fact-Checked
Editors carefully fact-check all Drugwatch content for accuracy and quality.
Drugwatch has a stringent fact-checking process. It starts with our strict sourcing guidelines.
We only gather information from credible sources. This includes peer-reviewed medical journals, reputable media outlets, government reports, court records and interviews with qualified experts.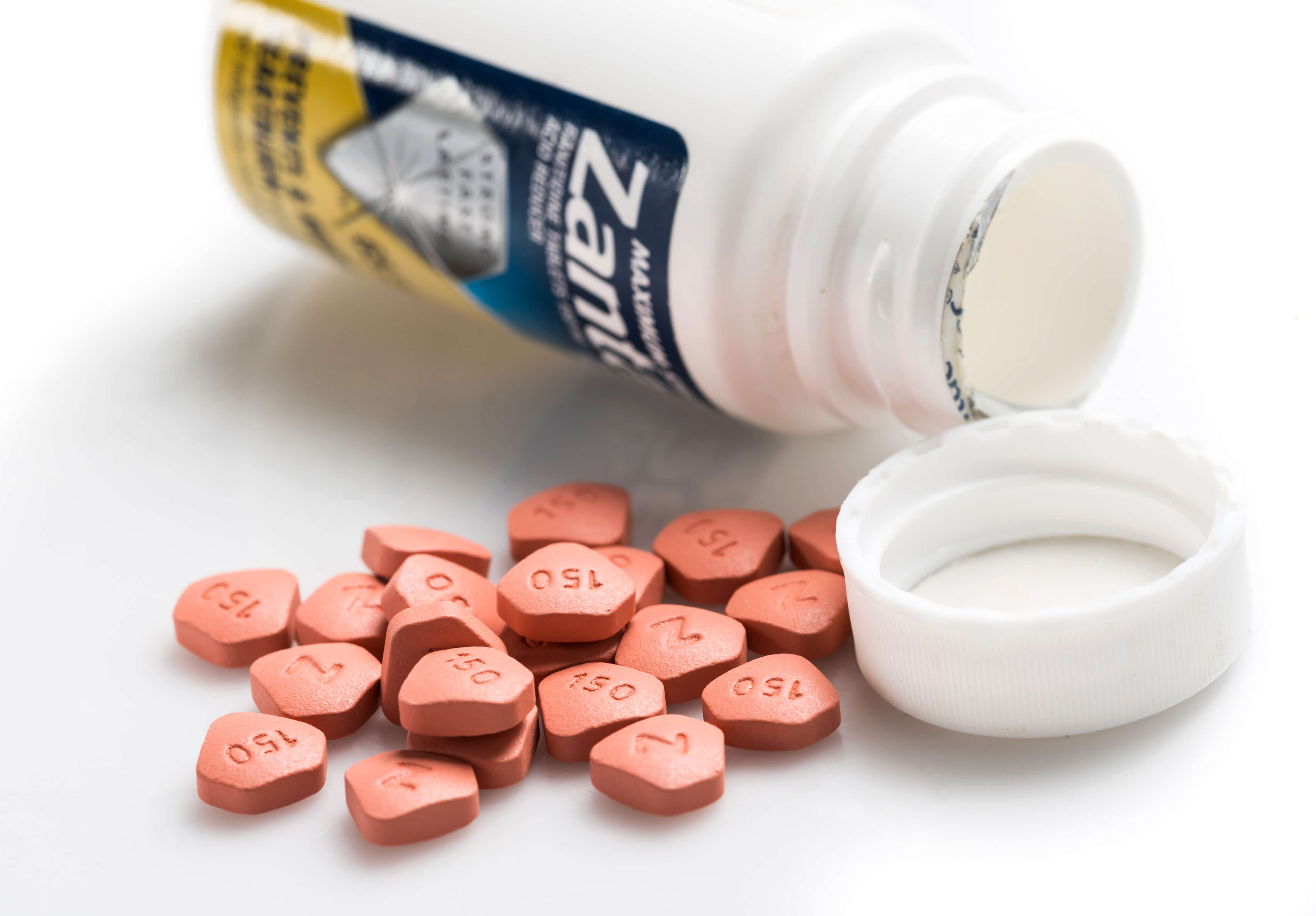 Some generic versions of the heartburn drug Zantac are being recalled in the United States because they may contain low levels of N-nitrosodimethylamine (NDMA), a substance that could cause cancer, according to the U.S. Food and Drug Administration.
As of Sept. 27, two manufacturers had issued recalls of ranitidine in the United States. Better known under the brand name Zantac, prescription ranitidine is approved to treat gastroesophageal reflux disease and treat and prevent stomach and intestinal ulcers while over-the-counter ranitidine is approved to prevent and relieve heartburn associated with acid ingestion and sour stomach.
One ranitidine recall includes over-the-counter generic versions sold at Walgreens, Walmart and Rite Aid, and the other includes batches of generic prescription capsules. Both companies cited the potential cancer-causing impurity NDMA as the reason.
Not all ranitidine medications sold in the United States are being recalled. Brand name Zantac has not been affected by the recalls.
People who were diagnosed with cancer after taking the medication have begun filing Zantac lawsuits. The recent cancer concerns follow a series of manufacturer recalls that began last year involving tainted valsartan and other angiotensin receptor blockers used to treat high blood pressure. The FDA's investigation into NDMA-contaminated drugs is ongoing.
"FDA is continuing to test ranitidine products from multiple manufacturers and assess the possible effect on patients who have been taking ranitidine," according to the agency. "Some manufacturers have chosen to stop distribution of ranitidine as a precautionary measure while the FDA and other international regulators conduct their investigations of the NDMA impurity."
Prescription Ranitidine Manufacturer Sandoz Inc. Stops Distribution and Issues Recall
Manufacturer Sandoz Inc. issued a voluntary recall of 14 lots of prescription ranitidine on Sept. 23. In a statement, the company said officials had confirmed that batches of Sandoz Ranitidine Hydrochloride Capsules 150 mg and 300 mg contained unacceptable levels of NDMA.
The company said it would inform distributors and customers of the recall via mail and its website. Consumers with questions about the recall are encouraged to call Sandoz at 1-800-525-8747.
Prior to the recall, Sandoz had issued a worldwide precautionary distribution stop for shipments of ranitidine. A distribution stop is different from a recall and means that existing stock of the drugs in pharmacies or stores can still be sold.
Some OTC Generic Zantac Added to the Recalls List
Generic Zantac maker Apotex Corp. voluntarily issued a recall of 75 mg and 150 mg over-the-counter ranitidine on Sept. 25. The affected tablets were distributed to warehousing chains across the United States.
Apotex said it sent a notification letter to the warehousing chains and is arranging the return of all recalled products. It instructed wholesalers, distributors and retailers to return the recalled drugs to where they were purchased and to quarantine any existing inventory.
Recalled products include ranitidine tablets sold at Rite Aid and Walmart and Wal-Zan sold at Walgreens. Consumers with questions about the recall can call Apotex at 1-800-706-5575 or email the company at UScustomerservice@Apotex.com.
Should You Keep Taking Zantac?
As of Sept. 26, the FDA was not recommending people stop taking all ranitidine medications. People taking over-the-counter ranitidine could consider using other OTC medicines approved for their condition, according to the agency.
Patients who use prescription ranitidine and want to stop taking the drug should talk to their doctor about other treatment options. The FDA has approved multiple drugs for the same or similar uses as ranitidine.
The FDA directed health care providers to discuss other treatment options with patients who are concerned about ranitidine. Doctors are being asked not to provide samples of recalled ranitidine to patients.
Sandoz and Apotex said they have not received any reports of adverse events related to use of the recalled drugs. Patients should let their doctor know if they have experienced any problems that may be related to using the affected medications.
Are Nexium, Prilosec and Other Stomach-Acid Drugs Safe from NDMA Contamination?
Health officials haven't said they've found NDMA in heartburn drugs other than generic Zantac.
Zantac is known as a histamine-2 blocker and works differently than other stomach-acid-reducing medications like Nexium and Prilosec.
Ranitidine reduces the amount of acid your stomach produces by targeting a substance called histamine. It usually takes an hour or less for patients to experience symptom relief after taking H2 blockers.
Medications like Nexium and Prilosec are known as proton pump inhibitors, or PPIs. They target tiny proton pumps in the stomach and limit the amount of acid those pumps produce.
PPIs and H2 blockers are both available by prescription and over the counter. It may take four days before patients experience relief after taking PPIs, but these drugs are considered more effective than H2 blockers at treating gastroesophageal reflux disease, or GERD.
However, PPI side effects can be serious or even deadly for those who take the drugs long-term. Serious proton pump inhibitor side effects include kidney problems and bone fractures.
Contamination of Valsartan and Other Blood Pressure Drugs
Ranitidine is not the first drug to contain a nitrosamine impurity, sparking questions about the safety of the American drug supply.
In July 2018, the FDA announced a voluntary recall of several valsartan blood pressure medications, citing the discovery of NDMA in some batches. Later it found N-nitrosodiethylamine (NDEA), a similar chemical, in valsartan products.
Manufacturers have also recalled other drugs in the same class, including losartan and ibesartan, because of contamination. In September 2019, Torrent Pharmaceuticals Limited announced it had detected N-Nitroso-N-methyl-4-aminobutyric acid (NMBA) in lots of losartan.
Tainted blood pressure medications have been traced back to Chinese manufacturers Zhejiang Huahai Pharmaceutical Co. Ltd. and Zhejiang Tianyu Pharmaceutical Co. Ltd. along with Hetero Labs Limited in India. Those companies then sold ingredients to generic drugmakers.
What Regulators Are Doing
The FDA has asked all makers of brand-name and generic Zantac to test their own products for NDMA and to send samples of the drug to the agency so its scientists can test for the impurity.
Health officials haven't said how some ranitidine became contaminated with NDMA. For now, FDA officials aren't instructing patients to stop taking ranitidine and advise consumers to consult with a doctor before discontinuing use.
NDMA is considered a probable carcinogen for humans and is known to cause tumors and death in animals based on laboratory results.
The FDA says NDMA is reasonably safe to consume in small doses and said in a Sept. 13 statement that early tests of ranitidine "barely exceed amounts you might expect to find in common foods."
However, Connecticut-based Valisure, an online pharmacy and laboratory, reported much higher levels of NDMA when it independently tested batches of Zantac and ranitidine. Valisure petitioned the FDA to request a recall of all products containing ranitidine, citing NDMA levels that exceeded recommended daily doses.
The FDA conducted its own testing on sample batches. The agency also detected NDMA but at lower levels.
Regulators in Canada took early precautions by requesting companies that market ranitidine to stop distribution until the issue was resolved.
"Health Canada continues to gather and share information with other regulators, including the U.S. Food and Drug Administration and the European Medicines Agency, and with Canadian companies to better understand the issue and whether there may be a risk to Canadians," the country's public health agency said in a Sept. 17 statement.
French regulators ordered a recall of all brand-name and generic Zantac, according to the Agence Nationale de Sécurité du Médicament, which is France's version of the FDA.
A spokeswoman for British drugmaker GlaxoSmithKline said the company is recalling ranitidine products in India and Hong Kong.
Share This Page:
How can we improve this page?
Thank You for Your Feedback
We appreciate your feedback. One of our content team members will be in touch with you soon.
We appreciate your feedback. One of our content team members will be in touch with you soon.