Top Drug and Device Lawsuits of 2020
Fact-Checked
Editors carefully fact-check all Drugwatch content for accuracy and quality.
Drugwatch has a stringent fact-checking process. It starts with our strict sourcing guidelines.
We only gather information from credible sources. This includes peer-reviewed medical journals, reputable media outlets, government reports, court records and interviews with qualified experts.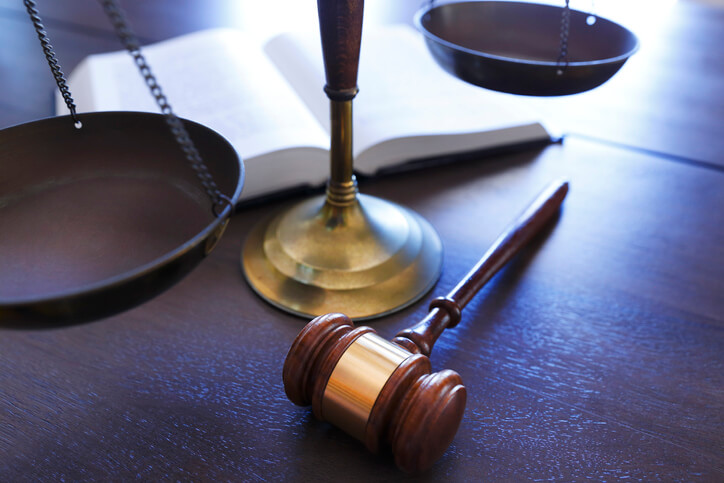 Several drug and device litigations ballooned in 2020. Some, including Zantac lawsuits, were affected by the year's major recalls. Others, such as Juul e-cigarette cases, experienced as much as an eightfold increase over the course of the year. 
A total of 33 multidistrict litigations closed in 2020, about 10 fewer than had ended in 2019. Meanwhile, 178 litigations — comprising 330,816 pending cases — remained open as the year came to an end.
For comparison, in December 2019, only 132,380 cases were pending in 189 litigations — almost 200,000 fewer cases than in 2020. 
We've compiled a list of some of the year's top court cases. Plaintiffs filed lawsuits claiming injuries from vision loss to cancer.
Elmiron and Vision Problems
In 2020, more people filed lawsuits against Janssen Pharmaceuticals claiming the company's interstitial cystitis drug Elmiron (pentosan polysulfate sodium) caused vision damage and vision loss. 
Janssen added a warning for retinal pigmentary maculopathy to the drug's label in June 2020. The drug has been on the market since the late 1990s. 
Trial attorney Trent B. Miracle with Simmons Hanley Conroy told Drugwatch he expects hundreds more people to file Elmiron lawsuits. 
Hernia Mesh and Complications
Hernia mesh lawsuits against Bard, Ethicon and Atrium more than doubled in 2020. In December 2019, the three hernia mesh manufacturers faced 7,803 federal lawsuits. One year later, the total number of cases pending in multidistrict litigations had skyrocketed to 15,800.
Lawsuits claim mesh caused complications such as pain, infections, hernia recurrence, bowel obstruction and organ perforation. 
Trials were originally scheduled in 2020, but the COVID-19 pandemic postponed these trials. If the schedules go as planned, the first bellwether trials against each company will start in January 2021. 
Juul E-Cigs, Seizures and Lung Disease
As of Dec. 15, 2020, more than 1,400 Juul lawsuits from around the U.S. had been combined in a multidistrict litigation in New Jersey. When the Judicial Panel on Multidistrict Litigation established the MDL in October 2019, there were only 10 actions. 
Plaintiffs claim Juul used misleading marketing to addict users, mostly minors, and failed to warn that vaping could lead to seizures, serious lung injuries and strokes. Juul denies the allegations that it targeted minors and intends to fight the lawsuits. 
So far, there have been no trials, and litigation is in early stages. 
Talcum Powder and Ovarian Cancer
Talcum powder lawsuits against Johnson & Johnson made up the second-largest multidistrict litigation for the second consecutive year. As of Dec. 15, 2020, Johnson & Johnson faced more than 24,700 federal lawsuits claiming its talc products such as Johnson's Baby Powder and Shower-to-Shower caused ovarian cancer. 
In October 2020, the health care giant offered $100 million to settle 1,000 claims, according to Bloomberg. Experts say that the company's decisions to recall 33,000 bottles of its baby powder in October 2019 and stop selling talc-based baby powder in the U.S. in May 2020 could strengthen plaintiffs' cases and potentially pave the way for more settlements. 
In November 2020, the Missouri Supreme Court refused to overturn a $4.69 billion verdict awarded to women with ovarian cancer, though the court reduced it to $2.1 billion, according to Reuters.
J&J said it would set aside the money, though it plans to appeal the verdict to the U.S. Supreme Court. 
Zantac and Cancer
In February 2020, the Judicial Panel on Multidistrict Litigation centralized Zantac lawsuits in a federal court in Florida. As of Dec. 15, 2020, there were 553 lawsuits pending in the multidistrict litigation. 
In the wake of Zantac recalls and a market withdrawal in April 2020, people have filed lawsuits claiming the drug caused a wide variety of cancers. 
Lawsuits claim ranitidine, the drug's active ingredient, is unstable and can form high levels of the potential carcinogen N-Nitrosodimethylamine (NDMA) when exposed to certain conditions in the body.
Share This Page:
How can we improve this page?
Thank You for Your Feedback
We appreciate your feedback. One of our content team members will be in touch with you soon.
We appreciate your feedback. One of our content team members will be in touch with you soon.