New Federal Guidelines Improve Oversight of Baby Formula Industry
Fact-Checked
Editors carefully fact-check all Drugwatch content for accuracy and quality.
Drugwatch has a stringent fact-checking process. It starts with our strict sourcing guidelines.
We only gather information from credible sources. This includes peer-reviewed medical journals, reputable media outlets, government reports, court records and interviews with qualified experts.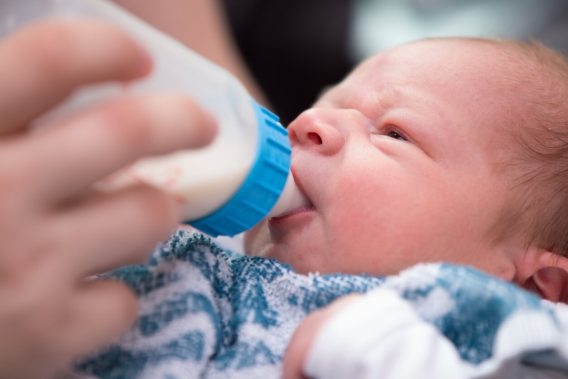 Newly developed federal guidelines aimed at strengthening oversight and regulation of the U.S. powdered infant formula market are making an impact, authorities say.
The U.S. Food and Drug Administration recently announced it will adopt the draft guidelines it published earlier this year that were created in the wake of a massive baby formula recall and shortage in 2022 linked to a deadly pathogen. 
Recently the FDA sent warning letters to three firms after inspectors found violations and bacterial contamination at ByHeart Inc., Mead Johnson Nutrition/Reckitt and Perrigo Wisconsin LLC, according to agency records. Those letters are now part of normal regulatory processes.
"Infant formula manufacturers are responsible for ensuring they make safe products, and the agency has remained in ongoing discussions with the infant formula industry to address the agency's concerns," Donald Prater, acting director of the FDA's Center for Food Safety and Applied Nutrition, said in a news release. "The FDA is committed to identifying and acting on issues early to prevent any firms from reaching the level of concern that prompted last year's large-scale recall and contributed to the infant formula shortage." 
Prates said the agency has continued to increase its oversight of infant formula facilities over the past year. 
"These letters are a reflection of this enhanced oversight and are intended to help the industry continuously improve the safety of their manufacturing practices, so that parents and caregivers can be confident that the formula they feed their children is safe and nutritious," he said.
Bacterial Contamination Poses Serious Health Risks
Four infants were sickened or died after consuming contaminated infant formula made by Abbott Nutrition at its Sturgis, Michigan, manufacturing plant between late 2021 and early 2022. Agency regulators launched an investigation after receiving the complaints and ordered the plant shut down after finding it unsanitary and contaminated with the Cronobacter sakazakii pathogen.
The Cronobacter bacteria poses a severe health risk to infants under 2 months old, those who were born prematurely or who had a low birth weight. It occurs naturally in the environment and can thrive in low-moisture foods such as powdered infant formula, herbal teas and starches.
Most people are unaffected by Cronobacter, but babies who become infected can suffer serious health problems, including sepsis and meningitis, according to the FDA. Other health issues include brain abscess, developmental delays, motor impairments or even death.
Cronobacter is not the only bacterium impacting baby formula. In another unrelated baby formula issue, some premature babies developed necrotizing enterocolitis after they were fed cow's milk-based baby formulas. 
The cases of NEC, which is a severe gastrointestinal condition that primarily impacts premature babies, led to lawsuits against manufacturers Abbott Laboratories and Mead Johnson. People have launched these NEC baby formula lawsuits against baby formula manufacturers and claim the companies failed to warn parents and medical providers about the risk of NEC associated with their baby formulas.
See if You Qualify for a Lawsuit
Our Partners
Our Trusted Legal Partners
Drugwatch partners with trusted law firms to help you take legal action. After submitting the form, one of Drugwatch's partners will contact you for a free case review.








Rules Strengthen Oversight to Avoid Another Shortage
The 2022 investigation into Abbott Nutrition exposed shortcomings related to the U.S. baby formula supply chain. The Sturgis plant is one of the largest manufacturers of formula, including specialty powdered formula.
Investigators found multiple strains of the Cronobacter bacterium in the plant, but none that matched the strain that sickened the four babies, according to the FDA.
In the aftermath of the shutdown and ensuing monthslong shortage, regulators and lawmakers sought to improve the supply. Since then the FDA has worked closely with industry, coalition, academia and consumer groups to find better ways to produce infant formula. 
It's also issued a letter to the industry to share current safety information and a call to action to improve manufacturing processes to prevent future contamination.
The FDA has taken additional steps, including:
Hiring a team of investigators to oversee the industry and check for baby formula safety

Hiring staff for the newly created Office of Critical Foods

Supporting the Council of State and Territorial Epidemiologists in making

Cronobacter infections a nationally notifiable disease
The agency is also working with the National Advisory Committee on Microbiological Criteria for Foods to address knowledge gaps about the Cronobacter bacteria.
Share This Page:
How can we improve this page?
Thank You for Your Feedback
We appreciate your feedback. One of our content team members will be in touch with you soon.
We appreciate your feedback. One of our content team members will be in touch with you soon.