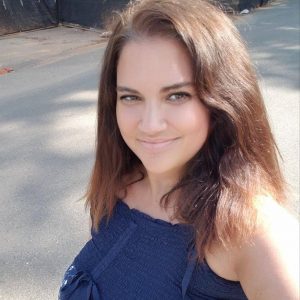 Rachel Brummert
Patient Advocate and Fluoroquinolone Survivor
Last Modified: March 8, 2021
Rachel Brummert is a trained Patient Advocate through the National Center for Health Research and a trained Special Government Employee (SGE) through the U.S. Food and Drug Administration.
As a Special Government Employee for the FDA, she sits on the Medical Devices Advisory Committee as a consumer representative. She makes recommendations to improve patient safety.
In June 2018, she sat on the Circulatory Systems Devices Panel to vote on the premarket approval application for the Incraft AAA Stent Graft System.
She also collaborates with the Centers for Disease Control and Prevention (CDC) on the Be Antibiotics Aware: Smart Use, Best Care campaign. The CDC published her Aug. 17 2018 blog post, When Prescribed Incorrectly, Lifesaving Antibiotics Can Be Dangerous, Carry Real Risks.
In addition to her work with the CDC and FDA, she partners with established consumer advocacy groups to promote patient engagement and patient safety. Rachel also became a patient peer reviewer at the Patient Centered Outcomes Research Institute (PCORI) in 2017.
Rachel started advocating for safer pharmaceuticals and medical devices after she experienced side effects associated with the antibiotic Levaquin.
A doctor prescribed her Levaquin in 2006 to treat a cough. Over the next 12 years, she experienced 24 tendon ruptures, peripheral neuropathy, and central and autonomic system damage.
Through this experience, she learned that the regulatory process for pharmaceutical drugs and medical devices is deeply flawed. She channeled her frustration and anger into advocating for others harmed by a drug or device, and helping patients navigate through a flawed medical system.
Rachel focuses on educating medical professionals and patients, analyzing research, fighting for transparency, and affecting policy change. She has trained with the National Center for Health Research in Washington, DC, and with the FDA in Silver Spring, Maryland.
She has testified before the FDA for stronger fluoroquinolone black box warnings.
WSOC-TV (Charlotte), WRIC-TV (Richmond) and WSB-TV (Atlanta) have featured her story. Consumer Reports and The Washington Post have quoted her.
Rachel continues to battle health issues stemming from taking Levaquin and is disabled. She relies on her husband to be her primary caregiver and has suffered immense quality of life and financial hardships.
She continues her fight for patient safety so that others do not have to go through what she has been through.
About Drugwatch's Experts
Drugwatch's experts are authorities in their fields. Their personal experiences and professional expertise make them uniquely qualified to review our content for accuracy and verify that the information you read here is trustworthy, comprehensive and consistent with the latest evidence-based research.