Top 5 Big Pharma Verdicts and Settlements of 2015
Fact-Checked
Editors carefully fact-check all Drugwatch content for accuracy and quality.
Drugwatch has a stringent fact-checking process. It starts with our strict sourcing guidelines.
We only gather information from credible sources. This includes peer-reviewed medical journals, reputable media outlets, government reports, court records and interviews with qualified experts.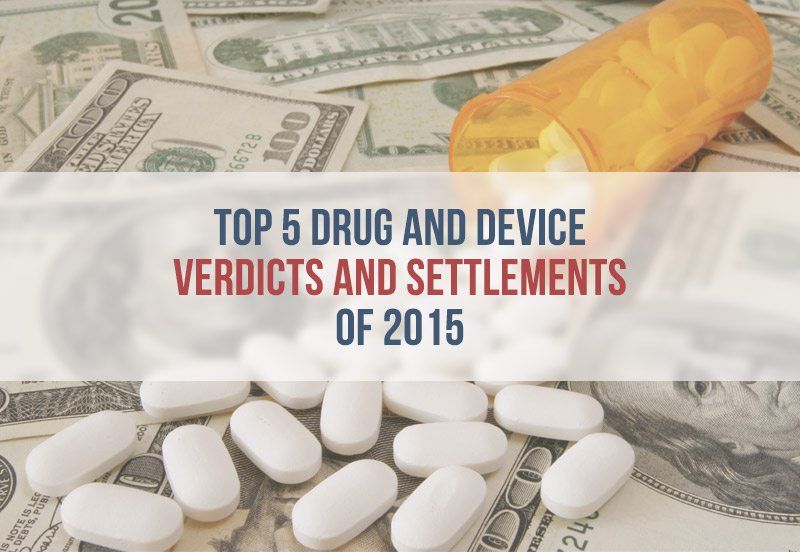 Big Pharma paid out big settlements and got hit with some big jury verdicts in 2015. The year's hardest hit companies include Johnson & Johnson, Takeda, Wright Medical and Boston Scientific. Lawsuits against the companies alleged the drug and device makers made false marketing claims, sold faulty products and failed to warn consumers about dangerous side effects, some fatal.
A number of highly prescribed drugs and popular medical devices were at the heart of the litigation, including Type 2 diabetes medication, antipsychotic drugs and a number of medical devices like hip implants. Here are highlights of some of 2015's big settlements, verdicts and controversies surrounding dangerous drugs and medical devices.
Multi-Billion Dollar Actos Settlement
In October 2015, Takeda Pharmaceuticals agreed to settle thousands of Actos bladder cancer lawsuits for $2.4 billion, and it is one of the largest settlements in drug and device history. In 2014, Takeda was hit with a massive $9 billion jury verdict in favor of one plaintiff who was diagnosed with bladder cancer after taking Actos.
Several studies, including Takeda's own five-year study, linked the medication to a 41 percent increased risk of bladder cancer. Spurred by this data, plaintiffs who say they were diagnosed with bladder cancer after taking Actos filed lawsuits accusing Takeda of hiding the risk.
Over the span of several years, the Japanese drug company fought against allegations that its blockbuster Type 2 diabetes drug caused bladder cancer. It insists the settlement is not an admission of guilt.
Millions Paid in Transvaginal Mesh Lawsuits
Transvaginal mesh remains one of the most controversial medical devices on the market and one of the largest mass torts in American history. Mesh ignited a social media firestorm with women who suffered complications from the device taking to Facebook and Twitter to spread the word about the dangerous device. One victim called it "genocide on women."
More than 70,000 lawsuits against seven companies are currently pending in federal multidistrict litigation before Judge Joseph R. Goodwin in West Virginia. Thousands more are pending in state courts. The two mesh manufacturers at the top of the list with the most lawsuits are Johnson & Johnson's Ethicon division with more than 29,000 cases and Boston Scientific with close to 19,000.
Johnson & Johnson quietly settled a handful of cases with undisclosed amounts but has yet to commit to a blanket settlement to resolve tens of thousands of federal and state cases against it.
Stryker to Pay 1.4B to Settle Hip Implant Cases
Each year, the number of Americans receiving hip implants rises. According to a study presented at the 2014 annual meeting of the American Orthopaedic Association, about 2.5 million Americans currently live with a hip implant. Unfortunately, not all implants are created equal. Metal-on-metal implants in particular are known for causing a number of complications from infections to implant failures.
Jury Rules Against J&J in Risperdal Lawsuits
Johnson & Johnson faced a number of trials and lawsuits linked to its blockbuster antipsychotic Risperdal. Parents of young men and boys filed lawsuits against J&J after their children took Risperdal and grew female breasts. One boy, Austin Pledger, has to live with 46DD-sized breasts because he cannot have surgery to remove them.
In addition to individuals suffering from complications, the Department of Justice and several states sued the company for marketing fraud. According to these lawsuits, J&J illegally marketed their drugs for uses not approved by the FDA.
Power Morcellator Death Case
Last year another controversial mass tort made headlines: the power morcellator. Surgeons use power morcellators — drill-like devices with sharp blades that chop up large pieces of tissue — to remove fibroids from the uterus and perform hysterectomies. The selling point of these devices is that they are less invasive and allow women to recover faster.
But in 2014, the FDA warned that laparoscopic power morcellators may spread undiagnosed uterine cancer in 1 out of 350 women. One type, leiomyosarcoma, is especially aggressive. Johnson & Johnson, one of the biggest manufacturers of power morcellators, removed its Ethicon devices from the market.
While morcellator lawsuits are still in the beginning stages of trial and settlement, they are poised to move more quickly because many plaintiffs with cancer are on limited time. Lawsuits claim the devices were defective and companies failed to warn about the risk of upstaging cancer.
Morcellators are involved in about 60,000 procedures a year and could seriously impact a number of women. Once cancers are upstaged by morcellators, they are difficult to treat and prognosis is typically poor.
Share This Page:
How can we improve this page?
Thank You for Your Feedback
We appreciate your feedback. One of our content team members will be in touch with you soon.
We appreciate your feedback. One of our content team members will be in touch with you soon.