Essure: Suspended in Brazil, Business as Usual in the USA
Fact-Checked
Editors carefully fact-check all Drugwatch content for accuracy and quality.
Drugwatch has a stringent fact-checking process. It starts with our strict sourcing guidelines.
We only gather information from credible sources. This includes peer-reviewed medical journals, reputable media outlets, government reports, court records and interviews with qualified experts.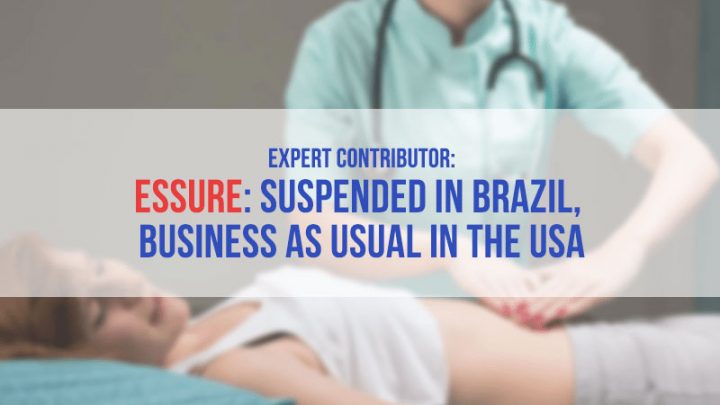 On Feb. 17, 2017, the Brazilian regulatory agency Agencia Nacional da Vigilancia Sanitaria (ANVISA) became the first to suspend sales and recall the Essure medical device, a pair of multi-material 4-centimeter coils implanted in the fallopian tubes of women for permanent birth control.
Based on technical and scientific reports, ANVISA has categorized the device as maximum risk due to certain side effects.
These include:
Changes in menstrual bleeding
Unwanted pregnancy
Chronic pain
Perforation/migration of the device
Allergy and sensitivity or immune-type reactions
ANVISA issued Resolution RE 457, which suspends the importation, distribution, sale, and use of the product throughout the national territory of Brazil. This is a major victory for patient safety and women in Brazil.
Essure Not Banned in U.S.
However, despite a similar assessment of the device by the U.S. Food and Drug Administration (FDA), Bayer continues to market and sell Essure in the United States.
The device works by causing scar tissue to build up in the fallopian tubes to prevent fertilization of eggs. Bayer claims the device is over 99 percent effective at preventing pregnancy.
But, after a large spike in adverse event reports in 2015, the FDA held a public hearing on the device and later followed that with updated guidance. The FDA ultimately recommended a black-box warning, the most stringent labeling available. The final language on the Essure label, which was issued a year later in October 2016, includes the same side effects which prompted ANVISA to suspend and recall the product in Brazil.
However, the FDA guidance is not mandatory.
Physicians are not required to inform patients of the updated labeling when using or recommending the device. Many doctors who prefer to prescribe the device may downplay the warning label by insisting the risks listed are anecdotal and rare side effects.
In fact, this is the view of the American College of Obstetricians & Gynecologists (ACOG), of which many OB/GYNs who prescribe Essure are members.
"ACOG is concerned that the proposed new black box labeling,and the precedent-setting Patietnt Deciscion Checklist for hysteroscopic sterilization, do not meet these requirements," wrote Dr. Christopher M. Zahh, ACOG's Vice President of Practice Activities. "Both of these patient information elements in the device labeling list possible adverse outcomes based on wide-ranging patient anecdotal reports, and are not based solely on a process of scientific data collection or analysis."
Essure Group Continues Legislation Efforts
Consumers can only speculate why the FDA didn't suspend Essure while serious questions about side effects and effectiveness of the product remain.
Bayer is conducting new clinical trials to answer those questions. This means women and their families won't have answers for the next 7-10 years.
Thus, doctors who continue to use the device are prescribing it blindly. They don't have definitive knowledge of whether those side effects are indeed anecdotal, which was a concern expressed by the advisory panel at the FDA hearing.
Women are rendered incapable of giving true informed consent. For these reasons, the Essure Problems advocacy group continues to lobby Congress to advance existing bills introduced after the
FDA's decision to leave Essure on the market:
The E-Free Act (H.R. 3920) – introduced on Nov. 4, 2015 by Rep. Fitzpatrick (R-PA-8) as a narrowly focused bill ordering the FDA to revoke the PMA status of Essure
Ariel Grace's Law (H.R. 5403) – introduced Jun. 8, 2016 by Rep. Mike Fitzpatrick and Rep. Louise Slaughter (D-NY-25) as a bipartisan bill to remove federal preemption protections for all Class III PMA devices which harm patients, including but not limited to Essure
Medical Device Guardians Act of 2016 (H.R. 5404) – introduced Jun. 8, 2016 by Rep. Fitzpatrick and Rep. Slaughter as a bipartisan bill to require physicians to report significant adverse events from medical devices (including Essure) to the FDA; under current laws & regulations, physician reporting of adverse events is voluntary, not mandatory, and typically goes to the manufacturer of a device, not the FDA
All three of those bills are awaiting further action in House committees.
Share This Page:
How can we improve this page?
Thank You for Your Feedback
We appreciate your feedback. One of our content team members will be in touch with you soon.
We appreciate your feedback. One of our content team members will be in touch with you soon.