MRI Detects Metal-on-Metal Hip Implant Tissue Damage before Pain Starts
Fact-Checked
Editors carefully fact-check all Drugwatch content for accuracy and quality.
Drugwatch has a stringent fact-checking process. It starts with our strict sourcing guidelines.
We only gather information from credible sources. This includes peer-reviewed medical journals, reputable media outlets, government reports, court records and interviews with qualified experts.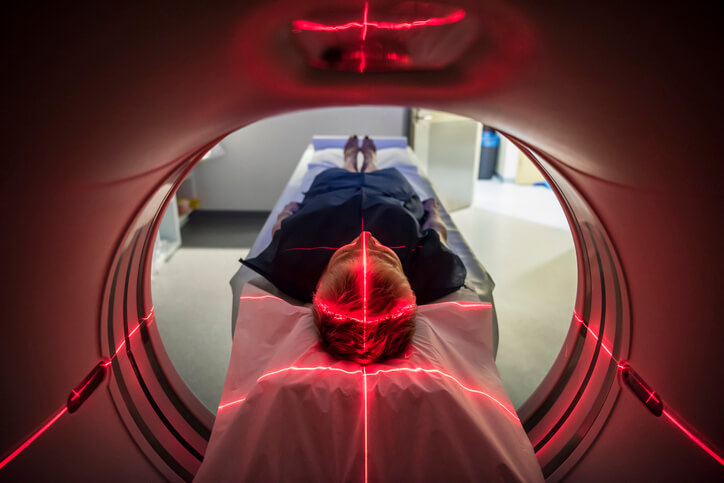 Magnetic resonance imaging (MRI) may help doctors detect tissue damage in patients with metal-on-metal (MoM) hip implants before pain sets in, according to a new study.
The study, published in the May 2013 issue of The Journal of Bone and Joint Surgery, shows that an MRI may be used to detect implant failure in asymptomatic patients.
Metal-on-metal implants like Johnson & Johnson's DePuy ASR, Stryker's Rejuvenate and ABG II and Biomet's Magnum are the subject of scrutiny by the FDA because of complications caused by excessive metal debris in patients.
According to the U.S. Food and Drug Administration (FDA), when the ball and cup in metal-on-metal hip implants rub together during walking and running "some tiny metal particles . . . wear off of the device around the implant, which may cause damage to bone and/or soft tissue surrounding the implant and joint."
This tissue damage can lead to implant failure and require complicated and painful revision surgery.
Dr. Hollis Potter, chief of the Division of Magnetic Resonance Imaging at Hospital for Special Surgery and one of the authors of the HSS study, said that an MRI may catch tissue damage before it becomes worse and complicates revision surgery.
The study – which involved 68 patients with failed MoM hip implants – revealed that an MRI may be an invaluable tool in preventing tissue damage progression caused by the devices. Authors of the study reviewed and used the data gathered to develop MRI markers to detect tissue damage.
MRIs found synovitis, inflammation of the membrane that lines the hip, in:
68 percent of patients who indicated no problems with pain or device failure
75 percent of patients whose hips had a mechanical defect or failure
78 percent of patients who had unexplained hip pain
The findings showed that even people without symptoms may already have tissue damage caused by MoM implants.
"Synovitis exists in asymptomatic people in a fairly high prevalence," Potter said. "If that is the case, symptoms alone are insufficient to determine the health of an implant. You can't wait for people to be sore before we evaluate them for this potential problem."
The study also has implications for the way doctors may test for MoM hip implant tissue damage in the future.
Metal Ion Tests Provide Mixed Results
Many doctors use serum ion levels — the amount of metal debris in the blood — as an indicator of tissue damage or implant failure. The FDA also recommends patients with symptoms be candidates for metal ion testing.
However, there are still no firm guidelines for such testing, and the FDA's January 2013 Safety Communication for MoM implants does not set a specific ion level as a barometer for recommending revision surgery or some other "medical intervention."
Researchers provide mixed reviews about the test.
At the annual meeting of the American Academy of Orthopaedic Surgeons in Chicago in March 2013, Med Page Today reported Dr. Alister Hart of the University College London said the actual diagnostic ability of metal ion tests is unknown.
Based on a study involving 597 patients, Hart's research found that these tests were useful for identifying poorly functioning implants. However, more study is needed because isolated tests may "pick up many who don't need revision" and "no cutoff levels of chromium and cobalt had ideal test characteristics," Hart announced at the meeting.
Meanwhile in Potter's HSS study, symptomatic and asymptomatic patients with tissue damage showed no significant difference in their x-rays or serum ion levels. According to Potter, this means neither of these tools could be used to predict damage.
"Many people focus on serum ion levels," Potter said. "[But] the pendulum is really changing away from serum ion levels and toward imaging, or at least not to focus so much on serum ion levels to predict potential damage."
The findings of these studies are the latest in the ongoing controversy surrounding problematic MoM hip implants.
Metal-on-Metal Hip Sales Plunge
In the wake of safety concerns, manufacturers of metal-on-metal hip implants are dealing with dwindling sales and thousands of lawsuits filed by people who suffered complications from the devices.
MoM hip sales accounted for 20 percent of the market in Europe and in the United States in 2007. By 2012, sales fell to less than 2 percent. Johnson & Johnson told Bloomberg that its MoM sales declined by 90 percent.
J&J, the world's largest health-care products manufacturer, recalled its DePuy ASR hip implant in 2010 and now faces at least 1,200 federal lawsuits related to the product. However, a company spokesperson told Bloomberg that J&J's recent decision to phase out MoM and ceramic on metal hips is not safety related and it is not a recall.
J&J isn't the only company whose business is affected by MoM implants.
Stryker issued a voluntary recall for its Rejuvenate and ABG II metal hip models in 2012. The recall alone is estimated to cost the company $390 million and its profit fell more than 13 percent in the first quarter of 2013.
It still remains to be seen if the availability of fewer MoM hips on the market will change the number of cases of premature hip failure and tissue damage.
In the meantime, in an HSS press release, Potter said imaging technology could be a superior method of detecting tissue damage. "Cross sectional imaging is the way to go, and specifically, MRI over CT based on its superior soft tissue contrast," she said.
Hart's group found that metal ion testing is a cheap and easy test to perform. This may be one of the reasons why it is currently used. Despite the positive results of the HSS study, one of the barriers to implementing large scale MRI technology could be cost.
Share This Page:
How can we improve this page?
Thank You for Your Feedback
We appreciate your feedback. One of our content team members will be in touch with you soon.
We appreciate your feedback. One of our content team members will be in touch with you soon.