Lawyers Accuse J&J and Bayer of Withholding Xarelto Study Data
Fact-Checked
Editors carefully fact-check all Drugwatch content for accuracy and quality.
Drugwatch has a stringent fact-checking process. It starts with our strict sourcing guidelines.
We only gather information from credible sources. This includes peer-reviewed medical journals, reputable media outlets, government reports, court records and interviews with qualified experts.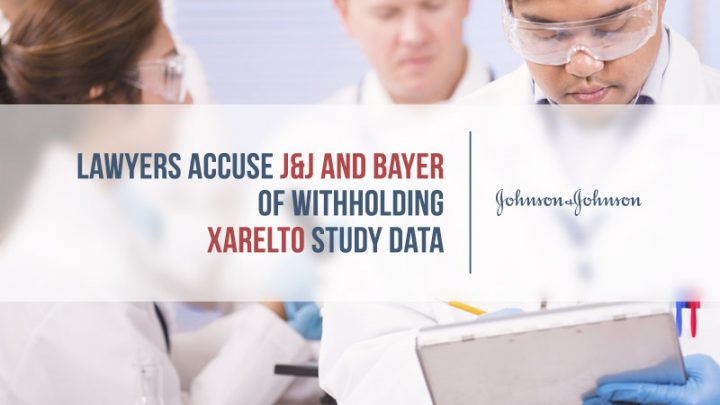 Lawyers for patients suing Johnson & Johnson and Bayer over severe bleeding injuries caused by the blockbuster blood thinner Xarelto say the drug makers failed to provide clinical trial data, the New York Times reported.
Documents filed in court say a re-analysis conducted by Duke published by the New England Medical Journal of Medicine was missing key information that could have affected clinical trial data comparing Xarelto to warfarin in its 2011 ROCKET-AF study. J&J and Bayer stayed silent and helped deceive editors of the journal, lawyers said.
The trial in question compared the safety of Xarelto and warfarin. Specifically, it collected data on the number of strokes and bleeding events experienced by patients taking one drug or the other. According to the study results, both Xarelto and warfarin had the same risk of bleeding, but J&J and Bayer's drug showed fewer incidents of bleeding in the brain and fatal bleeding.
Xarelto is a blockbuster drug and last year it brought in over $2 billion. Each year, doctors write about 23 million prescriptions, and the number is climbing. Currently, the drug is the most popular in its class.
The possibility that industry influenced the concealment of data is troubling to some doctors and questions the amount of sway drug companies may have on medical articles.
Doctor: Missing Data a 'Real Ethical Breach'
"It just feels like it's a real ethical breach," Dr. Lisa Schwartz of Dartmouth told the Times. "If you know the direct answer to this question, then how can you not provide it to be able to give insight?"
After a device used to measure blood clotting during the trial was recalled, Duke performed a re-analysis of the data when critics questioned it. During the original trial, Duke took the blood of more than 5,000 patients who took warfarin and sent it off to a central lab. This was done at 12 and 24 weeks. According to other researchers, this data could be compared with the data gathered from the recalled device to measure accuracy.
In its re-analysis letter published in the NEJM, Duke said the original trial results were sound. But, it did not publish the lab results of the warfarin patients.
Duke and J&J told the New York Times they worked independently of each other, and Bayer declined to comment. According to NEJM, editors didn't know about the missing data until a reporter called them to ask about it.
Recalled Device Puts Spotlight on Trial Results
The controversy started in February 2016 when the ROCKET AF trial led by Dr. Robert M. Califf — currently about to become the new head of the U.S. Food and Drug Administration — came under scrutiny. A device used in the trial to determine the right dose of warfarin to give to patients in the study was later recalled. The FDA issued its most serious recall, a class I. According to the FDA these devices used to measure blood clotting in patients could deliver results that were "clinically significantly lower than results in a lab."
This called the data gathered from patients that took warfarin into question. One of the concerns was that the dosing of warfarin may have been incorrect and might have led to skewed trial results.
The BMJ, a popular medical journal, uncovered the defective device in an investigation and called for an independent analysis. Dr. Deborah Cohen, associate editor for the journal, said that the flawed device could have made Xarelto seem safer than warfarin. Duke researchers analyzed the data again and published a letter in the NEJM last month saying the device problems "did not have any significant clinical effect on the primary efficacy and safety outcomes in the trial."
"[The re-analysis] confirms the conclusions of the ROCKET-AF study and the positive benefit-risk profile of XARELTO® (rivaroxaban) in patients with non-valvular atrial fibrillation," J&J's Janssen Pharmaceutical unit told CBS News.
Duke's re-analysis drew fire from plaintiff's lawyers who questioned the missing data from warfarin patients.
There are about 3,300 lawsuits filed by people who suffered Xarelto side effects such as uncontrolled bleeding pending in federal and state courts. Plaintiffs claim J&J and Bayer did not warn of the bleeding risk of Xarelto and failed to provide a bleeding antidote unlike warfarin. The first bellwether trials are scheduled for February 2017.
Share This Page:
How can we improve this page?
Thank You for Your Feedback
We appreciate your feedback. One of our content team members will be in touch with you soon.
We appreciate your feedback. One of our content team members will be in touch with you soon.