Jury Sides with Bayer, J&J in Third Trial over Xarelto Bleeding Risks
Fact-Checked
Editors carefully fact-check all Drugwatch content for accuracy and quality.
Drugwatch has a stringent fact-checking process. It starts with our strict sourcing guidelines.
We only gather information from credible sources. This includes peer-reviewed medical journals, reputable media outlets, government reports, court records and interviews with qualified experts.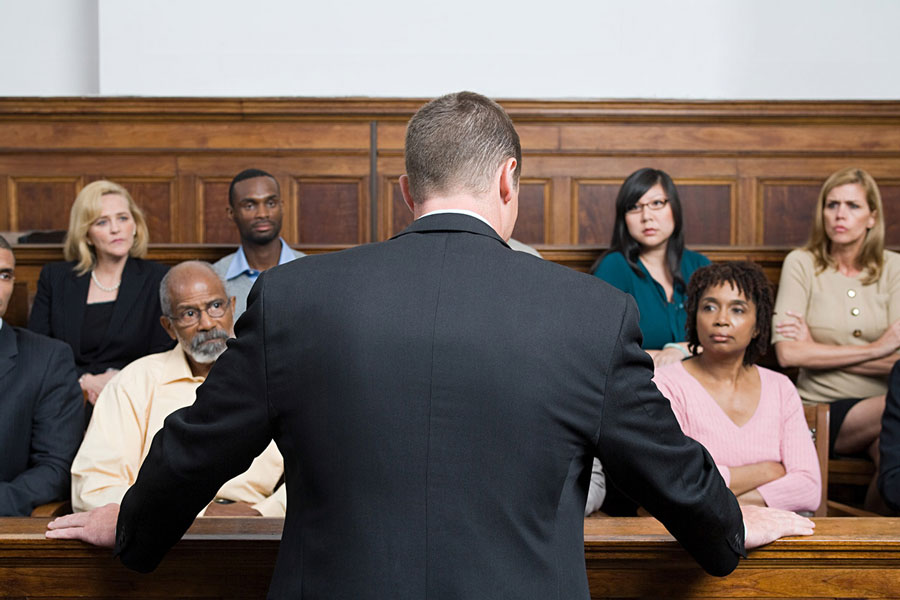 Makers of the blood thinner Xarelto are not liable for a Mississippi woman's severe internal bleeding, a federal jury found this month. Meanwhile, a possible new use for the drug has the potential to extend Xarelto's reach to an additional 30 million patients.
The Aug. 18, 2017, verdict in U.S. District Court in Jackson, Mississippi, marks the third time in less than four months that a jury has cleared Bayer AG and Johnson & Johnson of liability in trials over Xarelto bleeding risks. The Mississippi jury of five men and four women deliberated for four hours before returning the verdict in favor of the drugmakers.
At the time of the trial, which began Aug. 7, just shy of 18,850 people had sued Bayer and J&J over claims that they didn't warn about the possibility of dangerous internal bleeding associated with Xarelto.
The U.S. Food and Drug Administration (FDA) first approved Xarelto (rivaroxaban) in 2011 to reduce the risk of stroke and systemic embolism in patients with nonvalvular atrial fibrillation, a common heart rhythm disorder. The drug is also prescribed to treat and reduce the risk of dangerous blood clots called deep vein thrombosis (DVT) and pulmonary embolism.
However, over the years, users and their families have blamed Xarelto for uncontrollable, irreversible bleeding emergencies. Xarelto lawsuits filed against Bayer and J&J claim the drug is unreasonably dangerous and that the drug companies failed to adequately warn patients about the drug's serious bleeding risks.
Bayer and J&J maintain Xarelto's warnings were sufficient and that any alleged defectiveness did not cause patients' deaths.
So far, three cases have gone to trial as bellwethers, or test trials to help both sides assess the strength of their cases. The outcomes of these trials may affect settlement decisions as well as the fate of the more than 18,000 other Xarelto lawsuits still pending in state and federal courts.
The first three trials took place in Louisiana and Mississippi. None resulted in a verdict against Bayer and J&J. A fourth case is expected to go to trial in Texas. The plaintiff in that case is James Henry.
'Unacceptably High Risks' with No Antidote
Blood thinner pills, including Xarelto, carry "unacceptably high risks," according to a 2017 report by the Institute for Safe Medication Practices (ISMP).
ISMP analyzed two government data sources: the FAERS adverse events reports for 2016 and a new systematic study by the Centers for Disease Control and Prevention (CDC). It found blood thinner medications accounted for nearly 22,000 reports of serious injuries in the U.S., including 3,018 reported deaths. Xarelto accounted for about 68 percent — or 15,043 — of those cases and has been linked to at least 370 deaths.
Severe bleeding, or hemorrhaging, is one of the most frequently reported adverse events from blood thinners, such as Xarelto. Bleeding can occur in the brain or in the gastrointestinal tract.
Lawsuits accuse Bayer and J&J of failing to provide adequate warnings about Xarelto safety risks —particularly uncontrolled, irreversible bleeding —as well as the drug's lack of antidote.
Bleeding caused by Warfarin, a much older blood thinner, can be reversed with vitamin K. Currently, there is no antidote to reverse bleeding associated with the use of Xarelto.
Mississippi Xarelto Trial
The most recent Xarelto trial centered on Dora Mingo, a 69-year-old grandmother and retired schoolteacher from Summit, Mississippi, who says she suffered severe upper gastrointestinal bleeding and acute blood loss anemia after taking Xarelto as prescribed for treatment of a blood clot in her leg.
According to court documents, Mingo underwent a right total hip replacement surgery on Jan. 6, 2015. About two weeks later, doctors at Southwest Mississippi Regional Medical Center diagnosed Mingo with a blood clot deep in the veins of her lower leg, known as deep vein thrombosis (DVT).
Mingo was admitted to the hospital, and on January 23, 2015, she was prescribed Xarelto 15 mg twice daily for 21 days, then 20 mg once-daily thereafter.
Prior to receiving her first dose of Xarelto on January 23, 2015, a prothrombin time (PT) test showed her body was forming blood clots at a normal rate at 12.5 (normal range is between 12.1-15.2). After receiving her first and second dose of Xarelto, a PT test performed on January 24, 2015, revealed her PT was high at 23.6.
Doctors discharged Mingo from the hospital on January 24, 2015 and instructed her to continue taking Xarelto. On February 12, 2015, bloodwork performed by Mingo's primary care physician showed her hemoglobin (a protein in red blood cells that carries oxygen throughout the body) was 5.8. Normal levels for a woman are between 12.0 and 16.0.
On the morning of February 13, 2015, Mingo had already taken her last scheduled dose of Xarelto 15 mg when she received a call from the office of the doctor who prescribed the medication and was told to go to the emergency room immediately.
Mingo did as the doctor' office instructed and additional tests performed at the hospital confirmed severe anemia and an acute upper gastrointestinal bleed, with a PT measurement of 26.2. Mingo was admitted to the Intensive Care Unit (ICU) for further treatment. Doctors stopped treating her with Xarelto.
That same day, Mingo was transfused with four units of packed red blood cells and two units of fresh frozen plasma. A gastroenterologist also performed an esophagogastroduodenoscopy (EGD), which revealed a 6mm oozing ulcer in the upper part of her stomach. The gastroenterologist used a procedure called Argon Plasma Coagulation and a hemoclip to treat the ulcer and stop the flow of blood. Mingo remained in the ICU for two days until February 15, 2015.
In August 2015, Mingo filed a lawsuit against Xarelto's makers. Her case — along with thousands of other Xarelto bleeding lawsuits — was transferred to the U.S. District Court Eastern District of Louisiana as part of MDL -2592. An MDL, or multidistrict litigation, is a federal legal procedure designed to streamline the process of handling many cases with similar claims.
Judge Eldon E. Fallon selected Mingo's case to serve as the third bellwether case. About two years after Mingo initially filed her lawsuit, her case went to trial in Mississippi, and on Aug. 18, 2017, a seven-member jury decided in favor of the drug companies.
Xarelto Bleeding Arguments
Mingo's lawsuit argued that her doctor would have acted differently had he been adequately instructed on the use of PT measurements in Xarelto's label and that her injuries could have been avoided or diminished.
Bayer and J&J argued that the "Xarelto package mentioned 'bleed' or 'bleeding' more than 100 times." However, the judge wrote in a pretrial court order that "a reasonable fact finder could nonetheless conclude that quantity does not mean quality."
The judge also noted that the prescribing doctor testified that if he would have known of a test to evaluate the effect Xarelto was having on Mingo, he would have used the test and changed her dosage accordingly.
Another expert, Dr. Henry Rinder, testified that if "Ms. Mingo's treating physicians had been informed of the general linear correlation between PT measurements and Xarelto concentrations, and the correlation of PT with risk of bleeding on Xarelto …, Ms. Mingo's excessive exposure and unnecessary high risk of bleeding would have been identified at the onset of her treatment."
Two Victories in New Orleans for Bayer, J&J
Unlike Mingo's case, the first two Xarelto bleeding cases to go to trial were tried in New Orleans.
Louisiana resident Joseph Boudreaux filed the first case to go to trial. The 74-year old was prescribed Xarelto in 2014 to treat his heart condition. According to his lawsuit, Boudreaux took Xarelto and subsequently suffered gastrointestinal bleeding. He was hospitalized and received numerous blood transfusions.
Joseph Orr filed his lawsuit against Xarelto's makers on behalf of his late wife, Sharyn, who died in May 2015 after being in a coma for 10 days. According to the lawsuit, Sharyn Orr suffered a hemorrhagic stroke (bleeding in the brain) a year after her doctor prescribed her Xarelto to treat her atrial fibrillation. Joseph Orr blamed the drug companies for his wife's death, alleging they provided her doctor with inadequate information about the drug's bleeding risks.
Juries in both cases sided with J&J and Bayer.
Potential for 30 Million Additional Xarelto Patients
A little over a week after Bayer and J&J won the third trial over Xarelto bleeding risks, Reuters reported a possibility of a new Xarelto use that could add 30 million additional Xarelto patients to the existing population of roughly 25 million patients with atrial fibrillation.
Results presented at the European Society of Cardiology Congress in Barcelona showed that a combination of Xarelto and aspirin was 24 percent more effective at preventing strokes and heart attacks in patients with severe atherosclerosis than treatment with aspirin alone. In addition, the Xarelto-aspirin combination cut the potential risk for just stroke by 42 percent.
"On the down-side, major internal bleeding that required medical treatment occurred 70 percent more often when compared to the aspirin-only group, though Bayer said the risk of that happening to a patient was still low," Reuters reported.
The FDA would need to approve the new use before Bayer and J&J could legally market it in the U.S. Rival drugs Eliquis and Pradaxa have not been tested for atherosclerosis use, primarily because of concerns over side effects, according to Reuters.
Bayer, which also invented aspirin, made 2.9 million euros off of Xarelto sales in 2016 while J&J made $2.3 billion. Xarelto's patent expires in 2024.
Share This Page:
How can we improve this page?
Thank You for Your Feedback
We appreciate your feedback. One of our content team members will be in touch with you soon.
We appreciate your feedback. One of our content team members will be in touch with you soon.