Dollars for Docs: Companies that Pay Doctors the Most
Fact-Checked
Editors carefully fact-check all Drugwatch content for accuracy and quality.
Drugwatch has a stringent fact-checking process. It starts with our strict sourcing guidelines.
We only gather information from credible sources. This includes peer-reviewed medical journals, reputable media outlets, government reports, court records and interviews with qualified experts.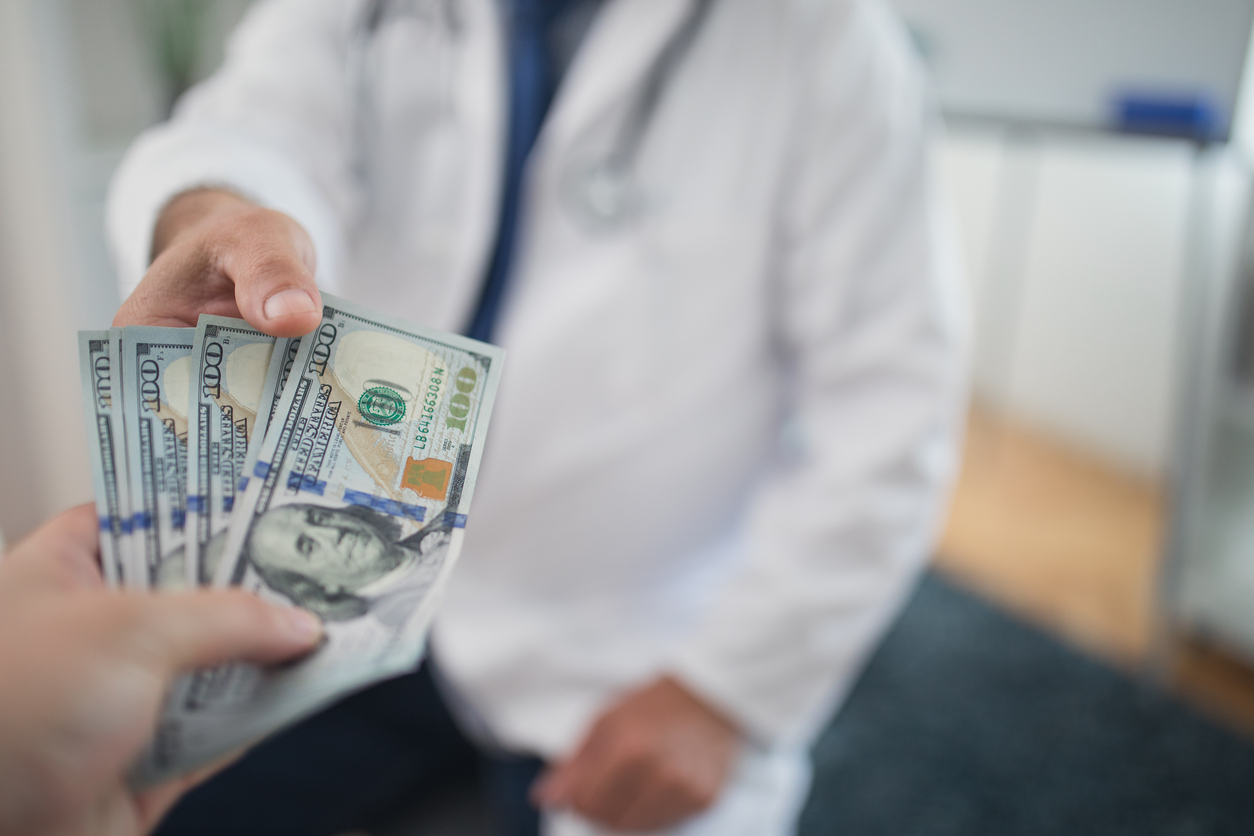 Bayer announced in July 2018 it was discontinuing its Essure birth control device. Less than a week later, news broke that the company had paid doctors $2.5 million since 2013. The payments were part of a marketing campaign to get doctors to prescribe Essure.
The payments were not illegal. They are direct marketing to doctors. And just about every drug or medical device manufacturer makes similar payments.
In fact, drug and device companies have paid doctors and hospitals more than $33.4 billion dollars since 2013, according to the Centers for Medicare and Medicaid Services (CMS).
Critics claim this kind of spending raises ethical questions. Studies show the payments may influence doctors' treatment preferences.
Drugwatch looked at "Dollars for Docs" to find out which drug and device companies spent the most on payments to doctors. Dollars for Docs is a website run by ProPublica that uses CMS data to show payments made by 2,000 companies.
The list below highlights the seven biggest spenders and the products these companies spent the most money to promote. The amounts are totals spent from August 2013 through December 2016.
List: Dollars for Docs 7 Biggest Spenders
1. Genentech, Inc. – $1.08 Billion
Genentech's most familiar products include Xolair and the flu treatment Tamiflu. But other drugs topped the list of company spending.
Rituxan (non-Hodgins lymphoma medication): $180 million
Herceptin (breast cancer treatment): $116 million
Avastin (treatment for colon, ovarian and other cancers): $115 million
2. Zimmer Biomet – $309 Million
Zimmer Bomet is one of the world's largest makers of orthopedic medical devices. It has operations in 25 countries and sells products in 100. It made the list for its promoting of implants used for knee and hip replacement.
Hip implants: $87.9 million
Knee implants: $48 million
Product portfolio: $29.6 million
3. DePuy Synthes – $238 Million
This Johnson & Johnson subsidiary manufactures hip, knee and other orthopedic implants. DePuy spent $15.7 million in about three and a half years promoting its Pinnacle hip. People have filed more than 9,700 Pinnacle lawsuits claiming the devices caused complications.
4. Stryker – $217 Million
Michigan-based Stryker sells medical devices in 100 countries. Its products range from joint and spinal implants to surgical equipment. Orthopedic implants accounted for more than 38 percent of sales in 2017.
Knee replacements: $64.1 million
Hip replacements: $60.9 million
Triathlon knee system: $22.9 million
5. AstraZeneca – a $189 Million
AstraZeneca makes the well-known drugs Nexium and Crestor. They are two of the most profitable drugs in recent history. But its marketing to doctors since 2013 has focused on newer products.
Bydureon (type 2 diabetes treatment): $46.9 million
Brilinta (used to prevent stroke, heart attack and other heart problems): $39.2 million
Symbicort (asthma and COPD treatment): $22.4 million
6. Pfizer – $175 Million
Pfizer manufactures big name prescription drugs such as Celebrex and Lipitor. It also produces over-the-counter and consumer products including Advil and Chapstick. Viagra is possibly Pfizer's most famous product.
Eliquis (treats atrial fibrillation, risk of stroke and blood clots): $34 million
Xeljanz (treats rheumatoid and psoriatic arthritis and ulcerative colitis): Amount: $16.4 million
Lyrica (treats fibromyalgia, nerve and muscle pain): $9.43 million
7. Allergan, Inc. – $172 Million
Allergan makes drugs such as Botox and AndroGel testosterone therapy. It also manufactures medical devices. These include the Lap-Band surgical weight-loss system and the Seri Scaffold.
Botox (used in cosmetic applications, treats muscle disorders and migraines): $39.1 million
Natrelle breast implants: $18.5 million
Restasis (organ transplant drug, also treats rheumatoid arthritis, psoriasis and dry eyes): $12.4 million
Tracking Dollars to Doctors
Federal law requires drug and medical device companies to report payments. CMS tracked 53 million records between mid-2013 and the end of 2017. Payments were sometimes for services including talks, research and consulting fees.
Dollars for Docs shows some doctors have made millions off this arrangement. At least four doctors have racked up more than $50 million each in less than five years.
But the average payment was just $20 per doctor. This usually amounted to a company representative picking up a doctor's meal.
A 2018 study in JAMA Internal Medicine found even a free lunch made doctors more likely to prescribe a company's drug.
Find Out If Companies Paid Your Doctor
Patients can search for how much money their doctors received from medical companies.
The CMS Open Payments site has a search engine that breaks down totals for individual doctors or teaching hospitals. People can search by a doctor's name and location.
It also shows how an individual doctor compares others. It shows how a doctor's payments compare to the national average for all doctors. And it shows how a doctor compares to those in the same specialty.
Share This Page:
How can we improve this page?
Thank You for Your Feedback
We appreciate your feedback. One of our content team members will be in touch with you soon.
We appreciate your feedback. One of our content team members will be in touch with you soon.