Mesh Survivor Says 'Don't Give Up'
---
Update Required
To play the media you will need to either update your browser to a recent version or update your
Flash plugin
.
Fact-Checked
Editors carefully fact-check all Drugwatch content for accuracy and quality.
Drugwatch has a stringent fact-checking process. It starts with our strict sourcing guidelines.
We only gather information from credible sources. This includes peer-reviewed medical journals, reputable media outlets, government reports, court records and interviews with qualified experts.
When doctors told her they would implant pelvic mesh to treat her prolapsed bladder, Estelle Tasz didn't think anything of it. Then 29, the mother of three put it out of her mind.
Years later when she started hemorrhaging, having pelvic, back and leg pains, she never suspected it was the mesh. She simply thought her body was going haywire.
Since then, the physical and emotional complications that followed for the Pittsburgh resident changed her life completely.
"I'm not the person I was," Tasz told Drugwatch.com. "What I wouldn't give to have that choice back."
Just a week before joining us on the Drugwatch Podcast, Estelle underwent one of many mesh surgeries at Ronald Reagan UCLA Medical Center in California. Unfortunately, she went home because of a serious infection following the surgery. She said this particular infection is common for women with mesh. For her, this summer will be spent in operating rooms.
Nevertheless, she wanted to appear on the show to shine a light on the plight of women with mesh.
Mesh Hurts Women and Their Families
They have a lighthearted saying in the Tasz household that sums up the upheaval caused by the troublesome implant: "It's a mesh."
Mesh is linked to a number of serious complications including organ perforation, pelvic pain and inability to have intercourse. One of the first complications Estelle suffered from was hemorrhaging.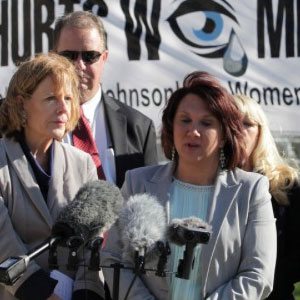 "I would hemorrhage just walking into a store," Tasz said. "They would have to transfer me by ambulance because as you know, you are bleeding out. That happened about three times in one year."
Then she developed large bladder stones about the "size of a small peach" that required surgery to remove. On top of that, she had painful, troublesome urinary tract infections constantly. After the first surgery to remove mesh, doctors discovered a surprising development.
"After the first mesh removal, they did discover mesh in my abdominal wall. That explained the nausea. It did also migrate through my vaginal wall. All the way up and all the way down."
The mesh also invaded her bladder, leaving her unable to urinate without a catheter.
What bothers Tasz the most is the emotional toll it took on her family. It broke her heart not being able to be the mother she wanted to be to her youngest daughter, whom she adopted thinking she would be healed.
"I'm not the same mother as I was to my other children with my youngest," she said. "I apologized to her birth mother. She said I just need to get well."
In addition, Tasz's first husband couldn't take the strain of watching her constantly in pain. They eventually divorced, though he is still supportive of her and involved in their children's lives. She remarried about two years ago, though she is unable to be intimate, a fact she shares openly.
Lawsuit Information
Thousands of women have filed transvaginal mesh lawsuits, claiming the devices caused serious complications. Learn more.
Ask Questions, Be Educated and Don't Give Up
"I would just like women to be educated and ask questions," Tasz said. "And if you do have mesh, find the best possible surgeon that is honest and will help you," she said.
Family members of women affected by mesh can help by being involved as well by asking questions and doing research. The Internet now has a wealth of information on the topic from information on what mesh is to the latest information on mesh lawsuits. For example, Drugwatch has a wealth of well-researched material about mesh, complications and information on brands and companies that manufacture the products.
Her advice to other women with mesh: "Don't give up. I know women are being told that they're crazy. I want to tell them that they are not. You know your body more than anybody."
Who Am I Calling?
Calling this number connects you with a Drugwatch representative. We will direct you to one of our trusted legal partners for a free case review.
Drugwatch's trusted legal partners support the organization's mission to keep people safe from dangerous drugs and medical devices. For more information, visit our partners page.