Several joint manufacturers have recalled metal-on-metal hip implants during the past decade. The companies promised their metal-on-metal designs would increase mobility. But certain types of hip replacements may be more prone to failure and recall. The recalls often come too late for tens of thousands of people who have already received these problematic devices.
Major hip replacement recalls occurred for these popular implant products:
DePuy ASR Acetabular & Resurfacing System
Stryker Rejuvenate and ABG II Hip Recall
Smith & Nephew R3 Acetabular, Modular SMF, Modular Redapt Femoral Hip Systems
Wright Conserve Plus and Profemur Z Hip Stem
Zimmer Durom Acetabular Component
The U.S. Food and Drug Administration only recalled three products between 1993 and 2003, according to a 2013 analysis by Consumer's Union. Most recalls are done voluntarily by companies because it is expensive for the FDA to recall products.
According to Consumer's Union, these six companies made the most hip recalls between November 1, 2002, and July 23, 2013: Biomet (25), Wright (28), Smith & Nephew (40), Zimmer (104), DePuy (150) and Stryker (231).
The hips were recalled for several reasons. All six companies recalled products for labeling issues. Five companies initiated recalls because of manufacturing issues, and four companies had recalls for packaging issues.
Other reasons for hip replacement recalls included:
Design flaws
Early implant failure
Migration issues
Instruction problems
Missing components
Fractured implants or surgery tools
Faulty hip implants have led to thousands of hip replacement lawsuits. People harmed by the devices allege that the companies who recalled the products knew about their faulty designs or failed to warn patients of the risks of the implant. When companies settle these lawsuits, they usually only settle cases with people who received the device before it was recalled.
Companies commonly provide compensation for some medical bills and other damages when they recall products, but participating in a company's recall program can limit a person's eligibility for legal claims against a company.
FDA Panel Comments on Metal-on-Metal Hips
The FDA cleared many problematic hip replacements through a process known as the 510(k) program. The 510(k) program allows manufacturers to sell their devices as long as they can show that a "substantially equivalent" device is already on the market.
Sometimes, approved hip products are based on products that were later removed or recalled from the hip implant market. Because the 510(k) doesn't require rigorous safety studies and trials, it increases the chance that patients may receive faulty or ineffective devices.
Since a large number of recalls involved metal-on-metal hips, the FDA called a panel meeting in June 2012 to discuss issues related to these devices. The hearing was open to the public. A number of surgeons and researchers provided data on metal-on-metal hips.
Dr. William Rohr of Mendocino Coast District Hospital, the panel chair, said he saw no reason to continue using metal-on-metal implants, but the FDA did not recall the devices. Instead, panel members requested more studies. The panel also agreed that doctors should inform patients of the problems associated with these devices.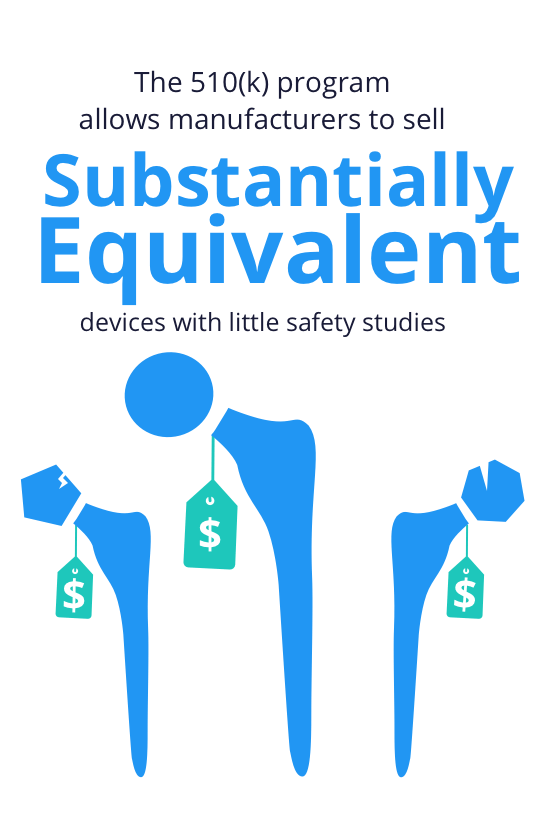 FREE HIP REPLACEMENT CASE REVIEW
Major Hip Replacement Recalls
Device recalls may be initiated by the FDA or the manufacturer, but the FDA rarely initiates recalls. Device manufacturers know they have a legal obligation to properly design, manufacture and test their products. They also have to warn the public if a device fails, has adverse side effects or doesn't do what it claims. That's why some manufacturers decide to voluntarily recall defective devices.
The FDA relies on manufacturers to monitor the safety of their devices and to report any problems after a device hits the market. Critics complain that this type of lax regulation gives manufacturers little incentive to make safety a priority.
Studies by independent medical researchers sometimes bring attention to device failures that manufacturers either miss or ignore. Fortunately, consumers and health care professionals are also able to report any problems directly to the FDA.
Zimmer Durom Cup Recall
DePuy ASR Hip Recall
Stryker Rejuvenate and ABG II Hip Recall
Smith & Nephew R3 Acetabular System Recall
Smith & Nephew Modular SMF and Modular Redapt Femoral System Recall
Please seek the advice of a medical professional before making health care decisions.
Author

Chris Elkins is a writer and researcher for Drugwatch.com. He's worked for various newspapers and has writing experience in sports, health communication and public relations fields. He graduated from the University of West Florida with a master's degree in Strategic Communication and Leadership, a graduate-level certificate in Health Communication Leadership and a bachelor's degree in Journalism.
---