Social Anxiety
Social anxiety, also called social anxiety disorder (SAD) or social phobia, is an intense fear of being judged negatively by others. It's a mental health condition that leads to depression, embarrassment, feelings of inadequacy, self-consciousness and inferiority. Treatment includes psychotherapy and medications.

Social anxiety disorder (SAD) is common and about 15 million Americans have the disorder, according to Anxiety and Depression Association of America.
SAD is not just shyness, and the intense fear of social interaction affects people's personal and professional lives. They may avoid spending time with friends. The fear may prevent them from getting job interviews. It may make it difficult to finish school. People with social anxiety also have difficulty in friendships and romantic relationships.
It usually starts in young people who are shy in social situations, and was more common in females over the past year, according to the National Institute of Mental Health.
Less than 5 percent of people with SAD seek treatment in the year after they suffer symptoms. About a third of people have symptoms for more than 10 years before seeking help, according to Anxiety and Depression Association of America.
With effective treatment such as psychotherapy and medication, people with SAD can overcome their fears and improve their lives.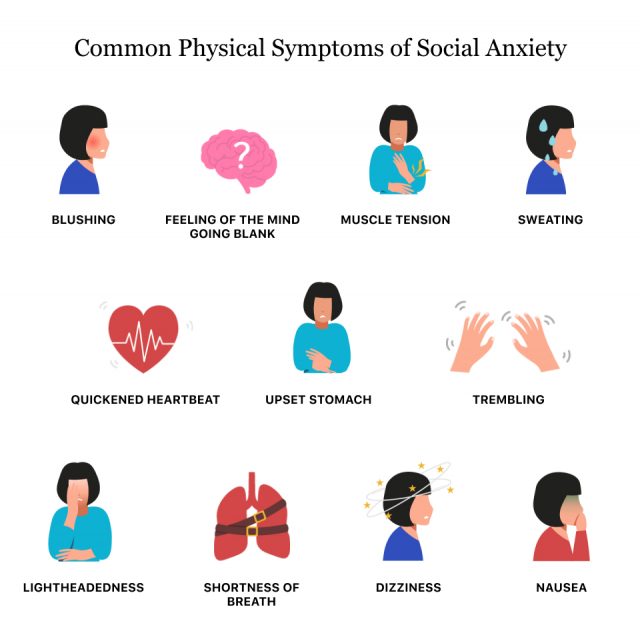 Symptoms and Signs
Symptoms and signs of social anxiety are triggered by social situations, especially around unfamiliar people and settings. The symptoms of SAD are physical and emotional. These symptoms may come and go or change over time. Facing stress or demands may cause them to flare up.
When symptoms interfere with your daily life, it may be time to seek treatment.
In order to diagnose social anxiety disorder, medical providers will make sure the symptoms aren't caused by medications, substance abuse or an underlying medical condition.
Symptoms of social anxiety include:
Avoiding places where there are people
Blushing
Difficulty talking to others, especially strangers
Dizziness
Fear of judgement
Feeling awkward or embarrassed around others
Feeling of the mind going blank
Feeling self-conscious in front of others
Find it scary or difficult to be around others, especially strangers
Lightheadedness
Making little eye contact
Muscle tension
Nausea
Quickened heartbeat
Rigid body posture
Shortness of breath
Speaking in an overly soft voice
Sweating
Trembling
Upset stomach
Causes and Triggers
Researchers aren't sure what causes social anxiety. SAD runs in families, but researchers aren't sure why some people get it and others don't.
Certain parts of the brain play a role in anxiety and fear, and some researchers believe misreading a person's behavior could cause the disorder, according to the National Institutes of Mental Health. A person with underdeveloped social skills may also have a difficult time in social situations and suffer social anxiety.
Triggers of social anxiety vary from person to person. For some people, the symptoms are not triggered by social situations, but may have performance anxiety. This is fear of giving a speech, being on stage or playing sports.
Situations that trigger social anxiety include:
Dating
Eating in view of other people
Entering a room in which people are already seated
Having to interact with strangers or unfamiliar people
Having to return store items
Initiating conversations
Making eye contact
Parties or social gatherings
Public restrooms
Work or school
Risk Factors
While scientists don't know exactly what causes social anxiety, some risk factors make a person more likely to suffer from SAD.
Risk factors include:
Genetics and Family History

People with siblings or parents with social anxiety are more likely to suffer from SAD.

Work or Social Demands

New work or social demands such as speaking in front of large groups, giving a work presentation, giving a speech or meeting new people can trigger symptoms for the first time.

Having a Physical Trait that Draws Attention

Physical disfigurement, Parkinson's disease, stuttering or tremors, disability or a disease that makes a person act or look different can increase a person's self-consciousness and make them more likely to develop SAD.

History of Negative Experiences

People who experience rejection, bullying, teasing or ridicule as children are more likely to develop social anxiety. Other negative life events such as abuse or trauma may also lead to the disorder.
Treatments
Social anxiety can't be cured, but treatments can help manage symptoms and help people live better lives. Medical providers may recommend psychotherapy, medication or a combination of both.
Research suggests that psychotherapy and medication are equally effective. Medication works faster on symptoms, but psychotherapy has longer lasting benefits, according to Harvard Medical School.
Psychotherapy
There are several types of psychotherapy, but cognitive behavior therapy (CBT) is the only type of therapy that has enough evidence of effectiveness.
The goal of CBT is to help people learn techniques to change the way they behave in situations that cause social anxiety. CBT may be in a group or on an individual basis.
Exposure therapy is the most common type of CBT. This involves exposing people to situations they are afraid of and helping them manage the fear. It also teaches them relaxation techniques and social skills.
CBT therapy sessions are typically 60 to 90 minutes long, and treatment lasts for three to four months. About 50 to 66 percent of people with SAD reported meaningful improvements in symptoms in about 12 weeks, according to Harvard Medical School.
Experts recommend CBT for people who experience increased social anxiety when returning to social interaction following the COVID-19 pandemic restrictions.
Medications
Medications for social anxiety include anti-anxiety medications, antidepressants and beta-blockers.
According to Harvard Medical School, more than 20 randomized controlled trials support the use of selective serotonin reuptake inhibitors (SSRIs) and one serotonin and norepinephrine reuptake inhibitor (SNRI) as the best medications for generalized social anxiety. People with specific phobias may benefit from beta-blockers or benzodiazepines.
Examples of these medications include: Celexa (citalopram), Paxil (paroxetine), sertraline (Zoloft) and Effexor (venlafaxine).
About 50 to 80 percent of people who took these SSRIs and or Effexor for social anxiety disorder responded to treatment after eight to 12 weeks.
Overcoming Social Anxiety
In addition to adhering to treatment plans for social anxiety, some self-help techniques may help manage social anxiety and overcome symptoms.
Tips for overcoming social anxiety:
Focus on creating rather than avoiding. For example, people with SAD focus on what they don't want to do. Instead, think about what you would like to create out of this situation, or what you would like to get out of it.
Focus on what people are actually saying instead of assuming what they are saying or feeling about you.
Remember it's not about you, focus outside of yourself.
Seek out a support group.
Start small. Practice with small situations such as talking to someone at the grocery store and then gradually work up to bigger gatherings.
Try some relaxation techniques, such as taking deep breaths into your belly as opposed to shallow chest breaths. Inhale through your nose and exhale through your mouth.
Try to understand what triggers you and keep a diary to think about how situations make you feel.
Advertisement
Professional Therapy, Done Online
A licensed therapist with BetterHelp can provide professional support and guidance, on your schedule. Sign up and get matched in as little as 48 hours.
Get Started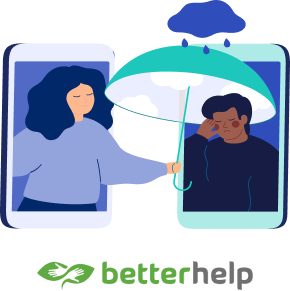 Please seek the advice of a medical professional before making health care decisions.
Share This Page:
How can we improve this page?
Thank You for Your Feedback
We appreciate your feedback. One of our content team members will be in touch with you soon.
We appreciate your feedback. One of our content team members will be in touch with you soon.
Who Am I Calling?
Calling this number connects you with a Drugwatch representative. We will direct you to one of our trusted legal partners for a free case review.
Drugwatch's trusted legal partners support the organization's mission to keep people safe from dangerous drugs and medical devices. For more information, visit our partners page.