Tiny pumps in the stomach produce acid for the body to use during digestion. When stomach acid reaches the esophagus, it causes a burning in the throat and chest known as heartburn. For those suffering from heartburn, the pain can range from discomfort to intense. Nexium is designed to turn the stomach-acid pumps from on to off to reduce the amount of acid in the stomach. Unlike basic antacids, Nexium takes longer to work. Instead of neutralizing acid in the stomach, it curbs how much acid the body produces. The active ingredient in Nexium is esomeprazole magnesium.
The global pharmaceutical company AstraZeneca produces prescription Nexium and first launched the drug in the early 2000s. The U.S. Food and Drug Administration (FDA) approved three formulations of Nexium capsules, first in 2001, and again in 2006 and 2008. The FDA approved an injectable version of the drug, Nexium IV, in 2005. The agency also approved two formulations of an over-the-counter version of the drug, called Nexium 24HR, in 2014 and 2015. Also in 2015, the FDA approved the first generic version of esomeprazole.
AstraZeneca continues to market prescription Nexium. The drug is indicated to treat the symptoms of acid reflux disease, which typically include persistent heartburn on two or more days per week, despite treatment and change of diet. Pfizer Inc. markets Nexium 24HR, a version available without a prescription. The over-the-counter medicine is indicated for adults with frequent heartburn, which is heartburn that occurs two or more days a week. Ivax Pharmaceuticals Inc., a subsidiary of Teva Pharmaceuticals USA, is approved to market 20 mg and 40 mg capsules of esomeprazole, the generic version of Nexium, to treat gastroesophageal reflux disease (GERD) in adults and children ages 1 and older.
Nexium was the second most-prescribed drug nationwide in 2010, and financial data shows Nexium's popularity has remained steady over the past few years. According to a 2015 IMS Health study of 2014 prescription drug sales data, Nexium generated $5.9 billion, the fourth-highest amount in sales in the total U.S. market. The spending was on par with the four years before that: $6.2 billion in 2013, $5.9 billion in 2012, $6.4 billion in 2011 and $6.5 billion in 2010. Nexium's cost varies based on a patient's insurance plan, but the average price of 30 Nexium capsules in the U.S. is either $240 or $255, depending on the dose.
Nexium Uses
Over-the-counter Nexium is FDA approved for treatment of frequent heartburn in adults (18 years and older). Frequent heartburn occurs two or more days a week. Prescription Nexium is designed to reduce the amount of acid in a person's stomach, effectively treating GERD, acid reflux disease and symptoms of heartburn. Doctors also prescribe Nexium as a preventive medication for people at risk of developing duodenal ulcer disease and gastric ulcers. Doctors may prescribe Nexium to adults for anywhere from four weeks to over a year, depending on the conditions it is intended to treat.
Gastroesophageal Reflux Disease
Nexium is indicated for use in adults for four to eight weeks to treat the symptoms of GERD. GERD happens when acid in a person's stomach backs up into the esophagus, which is the tube that connects the mouth to the stomach. This may cause a burning feeling in the chest or throat, sour taste or burping.
For children and adolescents ages 1 to 17, Nexium is intended for short-term treatment (up to eight weeks) of GERD. In babies ages 4 weeks to 1 year, Nexium is only indicated for treatment of GERD with acid-related damage to the esophagus (erosive esophagitis) for up to six weeks. It is not known if Nexium is effective in children less than 1 month old.
Erosive Esophagitis
Damage may happen over time as stomach acid wears away the lining of the esophagus. Nexium is indicated for adults with acid-related damage to the lining of the esophagus, known as erosive esophagitis (EE). Nexium is intended for four- to eight-week treatment of this condition. For patients who have not healed after 4 to 8 weeks of treatment, an additional 4- to 8-week course of Nexium may be considered. A 2006 study published in Clinical Gastroenterology and Hepatology found that compared to other PPIs, such as Prilosec, Nexium shows clinically a modest benefit in effectiveness, especially for people with severe erosive disease.
Zollinger-Ellison Syndrome
Nexium is indicated for the long-term treatment of conditions where the stomach makes a more than normal amount of acid, including Zollinger-Ellison syndrome. Zollinger-Ellison syndrome is when one or more tumors form in a person's pancreas or upper part of the small intestine. These tumors, called gastrinomas, produce large amounts of the hormone gastrin, which causes the stomach to produce too much acid.
Stomach Ulcers
One in four chronic users of the pain medications called non-steroidal anti-inflammatory drugs (NSAIDs) will develop ulcer disease. Nexium is indicated for up to six-months' use to reduce the risk of stomach ulcers in some people taking NSAIDs.
Eradication of Helicobacter Pylori to Reduce the Risk of Duodenal Ulcer Recurrence
Nexium is also intended for use in patients with the stomach infection Helicobacter pylori, along with the antibiotics amoxicillin and clarithromycin.
Nexium Side Effects and FDA Warnings
The most common side effects with Nexium include headache, diarrhea, nausea, gas, abdominal pain, constipation, dry mouth and drowsiness. Some patients may suffer serious allergic reactions and should call their doctors if they experience a rash, face swelling, throat tightness or difficulty breathing. Patients should not stop using Nexium without first speaking with a physician.
Are you suffering from side effects after taking Nexium or another PPI? We can help.
Nexium Side Effects Reports
Between 2001 and the end of 2017, the FDA received more than 41,000 reports of suspected Nexium side effects. The agency considered 17,467 of those reports "serious." That included 1,304 deaths. Reports do not necessarily mean Nexium was responsible for the side effect.
More than one in 10 reports said Nexium failed to work for patients. PPIs, like Nexium, are often taken for the wrong reason. Nexium is not meant for occasional heartburn.
Nexium 24HR has only been on the market since 2014. That is the drug's over-the-counter version. The FDA received about 3,800 suspected side effect reports for Nexium 24HR by the end of 2017. More than half said people either intentionally misused the drug or that Nexium 24HR did not work for them.
FDA Nexium Warnings
Over the years, the FDA has strengthened warnings in the labels for Nexium and other stomach-acid drugs. The agency issued several safety updates from 2010 to 2012 about side effects, including low magnesium levels; fractures of the hip, wrist and spine; and clostridium difficile–associated diarrhea. In 2014, the agency strengthened warnings in the label for Nexium to include acute interstitial nephritis (kidney injury) and vitamin B12 deficiency. Most recently, in October 2016, the FDA required information be added to the label about serious cutaneous and systemic lupus erythematosus events associated with the use of Nexium and other PPIs. The agency also proposed an update to the pregnancy section of the package insert.
Most Recent FDA Warnings about Nexium and Other Stomach-Acid Drugs:
2016 – Lupus Erythematosus Events

Some people who take PPIs, including Nexium, develop certain types of lupus erythematosus or have worsening of the lupus they already have. Nexium users should call their doctors if they have joint pain or a rash on their cheeks or arms that gets worse in the sun.

2014 – Pregnancy Information

The FDA categorized Nexium as pregnancy risk C, meaning there have not been well-controlled studies of pregnant woman using the drug. Based on animal data, Nexium may cause fetal harm, mainly changes in bone morphology at very high doses, according to the drug's label. Therefore, Nexium should be used during pregnancy only if the potential benefit justifies the potential risk to the fetus.

2014 – Acute Interstitial Nephritis

In December 2014 — more than a decade after Nexium went to market — the FDA strengthened warnings in the drug's label to include acute interstitial nephritis, an inflammatory kidney disease. According to the FDA, kidney problems may happen at any time during treatment with Nexium. Symptoms to be aware of include a change in urination or sightings of blood in urine.

2014 – Vitamin B12 Deficiency

Acid is needed to absorb vitamin B12. Low vitamin B12 levels are possible in patients who have been on Nexium for more than three years, according to the FDA.

The agency approved a labeling change for Nexium in December 2014 to reflect this potential risk. A vitamin B12 deficiency can lead to cognitive difficulties or memory loss, among other symptoms.

2012 – Clostridium Difficile-associated Diarrhea

Nexium may increase the risk of developing severe diarrhea, especially in hospitalized patients, according to the FDA. This diarrhea may be caused by an infection in patients' intestines called clostridium difficile. Patients should call a doctor right away if they experience persistent watery stool, stomach pain and fever.

In 2012, the FDA released a safety communication, informing the public that the use of Nexium and other PPIs may be associated with an increased risk of clostridium difficile-associated diarrhea (CDAD). The agency announced it was working with manufacturers to include this information in the drugs' labels.

2011 – Low Magnesium Levels

Low magnesium levels in the blood can happen in some people who take Nexium or other PPIs for at least three months, according to the FDA. Doctors may check the level of magnesium in patients' blood before they start taking Nexium or during treatment if the patients will be taking the drug for a long period of time. Nexium users may or may not have symptoms of low magnesium, so they should tell their doctors if they experience seizures, dizziness, jitteriness, tremors, or abnormal or fast heartbeat. Nexium users should also alert their doctors of any muscle weakness, cramps or aches, or spasms of the hands, feet or voice box.

2010/2011 – Fractures of the Hip, Wrist and Spine

People who take multiple daily doses of PPIs like Nexium for a year or longer may be more prone to certain bone fractures. In 2010, the FDA released a safety communication based on the agency's review of several epidemiological studies that reported an increased risk of fractures of the hip, wrist and spine with PPI use.

According to the agency, some studies found that those at greatest risk for these fractures received high doses of PPIs or used them for one year or more. The increased risk of fracture primarily was observed in people over the age of 49. Patients should use the lowest dose and shortest duration of PPI therapy appropriate to the condition being treated, according to the FDA.
Possible Health Effects of Long-Term Nexium Use
Nexium's label warns consumers of some of the drug's possible side effects but not against others that have surfaced in studies. Scientists have linked prolonged Nexium use to increased risk of several serious health conditions, including chronic kidney disease and stroke.
Chronic Kidney Disease and Acute Kidney Injury
Several recent studies have linked PPIs like Nexium to kidney problems.
A 2017 study looked at 144,000 patients in a U.S. Department of Veterans Affairs database. They found patients who took PPIs were more likely to suffer chronic kidney disease (CDK). The study also found a higher risk of patients developing acute kidney injury (AKI). The researchers published their findings in the journal Kidney International.
A 2015 study showed people taking PPIs had a higher rate of hospital admissions due to acute kidney injury than those not using the drugs. In fact, the rate was more than doubled — 13.49 for PPI users compared to 5.46 for the others. Acute kidney injury is an abrupt loss of kidney function and often includes kidney failure. Acute interstitial nephritis accounts for up to one-quarter of cases of acute kidney injuries. Roughly 600,000 patients 66 years and older were studied, with equal numbers taking proton pump inhibitors and serving as the control.
Fact
PPIs including Nexium can increase your risk of chronic kidney disease 20% – 50%.
Another study published in 2016 in JAMA Internal Medicine found PPI use to be associated with a higher risk of chronic kidney disease. Moreover, the study showed taking two doses of the drugs daily resulted in a greater chance of developing chronic kidney disease than taking one dose daily. The study examined 10,482 participants for an average of 13.9 years. Some of the participants used proton pump inhibitors like Nexium, and others used H2-receptor antagonists. The results showed taking proton pump inhibitors such as Nexium was associated with a 20- to 50-percent higher risk of developing chronic kidney disease.
Dementia
Studies show mixed results on whether Nexium increases dementia risk. A 2016 study showed a link. But more recent studies suggest there is no link between dementia and PPI use.
In the 2016 study, German researchers looked at 73,679 seniors aged 75 and older. None of them had dementia when the study began.
The researchers looked at patient records from 2004 to 2011. They found a "significantly increased risk" of dementia among PPI users. It was 44 percent higher than in patients who did not take PPIs.
The authors believed Nexium and other PPIs affect proteins linked to Alzheimer's disease. They also found some evidence the drugs affected mental skills.
But later studies found no link.
A 2017 study followed 10,000 volunteers for six years. All the patients were 50 or older. Researchers found no evidence of dementia or Alzheimer's disease. That study appeared in the Journal of the American Geriatrics Society.
A 2018 study published in Clinical Gastroenterology and Hepatology also found no link. It compared mental skills between twins over several years. Researchers reported no link between PPIs and decreased mental skills.
Stroke
According to preliminary research presented at an American Heart Association conference in 2016, Nexium and other PPIs may increase the risk of ischemic stroke, which occurs when a blood clot cuts off blood flow to the brain.
Patients taking Nexium at its highest doses (80 mg or more) have a 50 percent increase risk of having a stroke. However, no increased risk was observed at low doses (20 mg). The risk started to rise at the medium doses (40 mg), but most patients taking these drugs were taking medium doses or higher.
The research conducted in Denmark found that overall stroke risk increased 21 percent among patients who were taking a PPI, according to a CNN report. Stroke risk increased 50 percent for Nexium patients who were taking the drug at its highest dose.
Nexium Dosage
Over-the-counter Nexium 24HR comes in 20 mg capsules or tablets. Recently, Pfizer released a new form of Nexium 24HR as mini capsules: Nexium 24HR ClearMinis. Nexium 24HR should be swallowed whole with a glass of water once daily for two weeks.
Prescription Nexium comes in delayed-release capsules and delayed-release oral suspension. The prescription capsule is intended to be swallowed whole at least one hour before a meal, while the oral suspension is to be mixed with water using an oral syringe. Both prescription forms may be given through a nasogastric tube.
Nexium 24HR
Nexium 24HR is indicated for a 14-day regime that can be repeated once every four months. It may take one to four days for full effect, according to the drug's maker. The drug's label instructs users to take one Nexium 24HR capsule with a glass of water before eating each morning for 14 consecutive days. The capsule should not be chewed nor should its contents be mixed into food or drink, according to the label.

Nexium Delayed-Release Capsules
Never chew or crush Nexium delayed-release capsules. The drug's label says that if you have difficulty swallowing the capsules, you may open the capsule and empty the contents (granules) into a tablespoon of applesauce but you must swallow the applesauce right away. Also, do not crush or chew the granules. A missed dose of Nexium should be taken as soon as remembered unless it is almost time for the next dose. Do not double up on the dose to make up for a missed dose. The label also cautions that if a patient takes too much Nexium, he or she should call a doctor or local poison control center immediately, or go to the nearest hospital emergency room.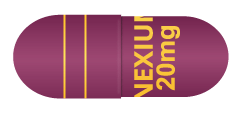 Nexium Delayed-Release Oral Suspension
To take Nexium for delayed-release oral suspension, use an oral syringe to measure the amount of water needed to mix the dose. The drug comes in foil packets containing 2.5 mg, 5 mg, 10 mg, 20 mg or 40 mg strengths. For a dose of 2.5 mg or 5 mg, add 5 mL of water to a container, then add the contents of a foil packet containing the prescribed dose. For a dose of 10 mg, 20 mg or 40 mg, add 15 mL of water to a container, then add the contents of a foil packet containing the prescribed dose. Stir the water and contents of the packet, and then leave it alone for two to three minutes to thicken. Stir again and take the dose within 30 minutes. If you do not take the dose within 30 minutes, throw it away and mix a new dose. If any medicine remains after drinking the mixture, add more water, stir and take the dose right away. Caregivers can administer the medicine to young children using an oral syringe. Be sure to rinse the oral syringe with water after each use.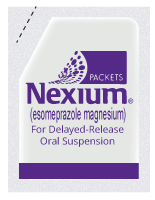 Please seek the advice of a medical professional before making health care decisions.
Author
Emily Miller is an award-winning writer who has held editorial positions with reputable print and online publications around the U.S. As the editor of Drugwatch.com, Emily draws on her background as both a patient and a journalist to ensure her team of writers provides consumers with the latest and most accurate information on drugs, medical devices, procedures and related lawsuits. Emily holds five Health Literacy certificates from the Centers for Disease Control and Prevention as well as a Bachelor of Science in Journalism from the University of Florida. She is a member of The Alliance of Professional Health Advocates, the American Association for the Advancement of Science, the Society of Professional Journalists and the Society for Technical Communication.
---