Drugmaker Forest Laboratories has enthusiastically promoted Lexapro as an effective treatment for depression and anxiety. As a result, it became one of the most popular prescription antidepressants in the U.S. between 2002 and 2012, with sales topping $2.3 billion in 2008.
Lexapro, made by Forest Laboratories, belongs to a class of antidepressant drugs known as selective serotonin reuptake inhibitor (SSRIs), which increase serotonin levels in the brain in an effort to improve mood and treat depression and anxiety.
When the U.S. Food and Drug Administration (FDA) approved Lexapro in 2002, there were several other SSRI antidepressants already on the market. Experts close to the situation believe this was motivation for Forest Laboratories' aggressive marketing approach.
In 2010, Forest Labs was ordered to pay the U.S. Department of Justice $313 million for illegally marketing Lexapro and two other drugs.
Fast Fact:
SSRIs like Lexapro increase the risk of birth defects and autism when taken by pregnant women.
Like other SSRI antidepressants, Lexapro was also the subject of lawsuits related to birth defect allegations. Studies show SSRIs increase the risk of birth defects and autism when women take the drugs while pregnant.
Unlike many other SSRIs, no multidistrict litigation (MDL) was established for Lexapro birth defect cases. Instead, Forest Labs faced numerous lawsuits that revolved around the use of Lexapro as an antidepressant for adolescents.
Lexapro Improperly Marketed to Children
According to a document released in 2009 by the U.S. Senate's Special Committee on Aging, Forest Labs wasted no time aggressively marketing the prescription drug after its approval, especially for use in pediatric patients.
Federal prosecutors in Boston announced a civil lawsuit against Forest Labs, claiming the drugmaker illegally marketed Lexapro and Celexa — another antidepressant — to children and compensated physicians and psychiatrists for prescribing the drugs.
Federal prosecutors claimed that Forest Labs illegally marketed Lexapro and Celexa to children
Lexapro was approved for pediatric use in adolescents 12 years and older in 2009, but the allegations of illegal marketing and compensation occurred prior to that approval.
The document, "Lexapro Fiscal 2004 Marketing Plan," is an outline of the steps Forest Labs used to make Lexapro a success. It details the plan to launch a Lexapro marketing campaign by Sept. 5, 2002, less than a month after the FDA approved the drug.
In 2009, the company's subsidiary, Forest Pharmaceuticals Inc., agreed to plead guilty to a felony obstruction of justice charge and two misdemeanor counts related to the off-label promotion of Lexapro and Celexa and the distribution of an unapproved drug, levothyroxine, which is used to treat hypothyroidism.
The company agreed to pay more than $313 million to settle the charges.
Kickbacks to Doctors Who Prescribed Lexapro
Forest Labs' 2004 plan details how the company planned to direct money to doctors who prescribed Lexapro to patients.
Using "Rep Promotional Programs," the drug maker aimed to spend $34.7 million to pay 2,000 psychiatrists and primary care doctors to deliver 15,000 marketing lectures about Lexapro to their peers in the span of a year.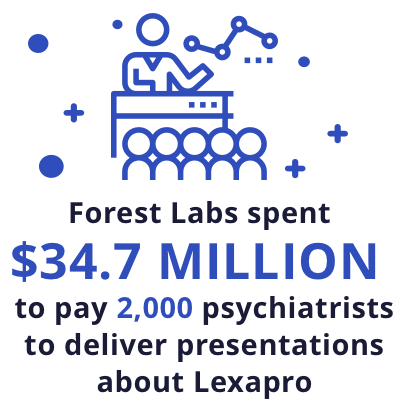 "These meetings may be large-scale dinner programs with a slide presentation, small roundtable discussions or one on one advocate lunches," the document states. "These meetings are necessary to maintain the strong presence and share of voice of Lexapro. In addition, dinner programs provide an opportunity for the rep to interact and build relationships with a number of physicians in their territory."
In the document, Forest Labs details plans to spend $36 million — or $18,500 per rep — on these advocate lunches alone. It is illegal to pay doctors to prescribe a particular medication, but it is not illegal to pay medical professionals to lecture and educate colleagues about a drug.
The U.S. Senate's Special Committee on Aging addressed this matter at a 2009 hearing.
---
"Is the line between medical education and marketing blurred? For these companies, there is no line."

— Herb Kohl, Former Senator from Wisconsin and Former Chairman on the U.S. Senate's Special Committee on Aging
---
On Dec. 15, 2016, Forest Labs agreed to pay $38 million to the Department of Justice to resolve allegations that they violated the False Claims Act by paying kickbacks to persuade medical professionals to prescribe several of the company's drugs.
Whistleblower Collects $7.8 Million in Settlement
Typically these types of federal investigations are brought on by a whistleblower, usually a former employee or associate of the defendant. This was the case in the settlement for illegal kickbacks to doctors.
Kurt Kroenig, a former pharmaceutical sales representative for Forest Labs, filed a lawsuit under the qui tam or whistleblower provisions of the False Claims Act, which allows private individuals to sue on behalf of the government for false claims and to share in any recovery. The suit, filed in Milwaukee federal court, alleged that the drugmaker paid doctors illegal speaking fees.
Kroenig received $7.8 million as part of the settlement. Forest Labs denied any wrongdoing in the settlement. Of the $38 million Department of Justice settlement, the federal government received $35.5 million and state Medicaid programs received $2.5 million.
"The allegations are that the company was essentially paying doctors related to the amount of their prescriptions under the guise of paying them for speaking, which is normally referred to in the health care fraud arena as 'pay to play,'" Nola Hitchcock Cross, Kroenig's attorney, said.
The Millwaukee federal court house where federal investigations against Forest Labs were held
Forest Pays $10.4 Million to Settle Adolescent Prescription MDL
In March 2014, Forest Labs agreed to pay $10.4 million to settle an MDL accusing Forest Labs of misleading parents into buying Lexapro and Celexa for their children.
The case, Randy Marcus et al v. Forest Laboratories Inc. et al, included parents and third parties in Missouri who purchased Lexapro for a minor between Aug. 1, 2002 and Dec. 31, 2013.
According to a memorandum filed in the case on July 9, 2014, packets were sent to 27,247 third-party payor class members in Missouri detailing the terms of the settlement. This was described as 97 percent of known third-party payors. The fund was to have a minimum value of $7.65 million and a maximum value of $10.35 million.
Similar class action lawsuits in New York and Illinois were refused. The Missouri class action was rolled into an MDL in the U.S. District Court for the District of Massachusetts, with Judge Nathaniel M. Gorton saying the claims were only viable under the Missouri Merchandising Practices Act, a law that prohibits unfair and deceptive business practices.
Gorton previously dismissed a punitive class action brought by plaintiffs in California on the grounds that the action was barred by the safe harbor provision observed by California.
Please seek the advice of a medical professional before making health care decisions.
Author
Matt Mauney is a writer and researcher for Drugwatch.com. Before joining the Drugwatch team, he spent 10 years in journalism working for various newspapers and news websites. Matt has a degree in journalism with a double minor in broadcasting and public relations from Georgia Southern University.
---