With $2.2 billion in annual sales, Coloplast touts itself of "one of the world's most profitable med-tech companies." The company earned a ranking of 22 on Forbes' list of the world's most innovative companies. Forbes places the company at 1,430 on its Global 2000 list with $16.3 billion in outstanding market shares. The publication ranked it number 1,230 in profit worldwide and number 761 in market value.
Coloplast continues to grow through innovation, even as it confronts some legal problems in the U.S.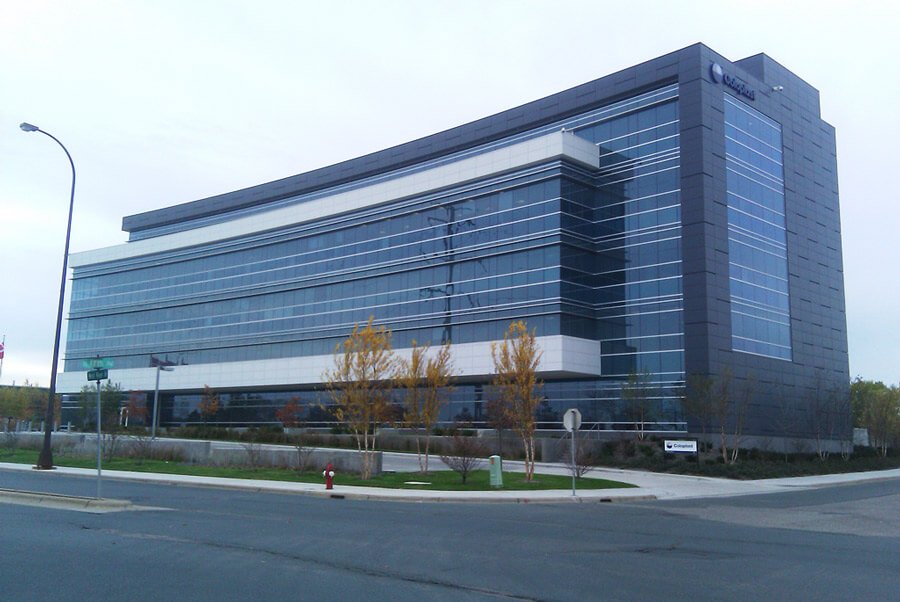 Coloplast North American Headquarters in Minneapolis, MN
According to its annual report, Coloplast's net profits in 2016 were about $476 million.
"Innovation is in Coloplast's DNA," says the company's U.S. Senior Vice President Edmond Veome. "Our entire organization is focused on developing our products to make life easier for users with intimate healthcare needs."
The company said in its 2016 annual report that its newest ostomy care products "will eliminate the burden of leakage." In continence care, "Coloplast aims to reduce the burden of bladder management." And in wound care, the company wants to "help users have fewer days with wounds."
The Ethisphere Institute — a think tank dedicated to ethics practices in business — named it one of the "World's Most Ethical Companies" in 2012 and 2013, though some have questioned the independence of the institute. Coloplast didn't make the list in more recent years.
Coloplast's History
Coloplast started in Denmark in 1954 by nurse Elise Sorensen, who had an idea when her younger sister, Thora, then 32, had her colon removed after a cancer diagnosis. The operation saved her life but left her embarrassed and afraid to leave her house.
Newly invented plastic bags gave Elise an idea for a bag that would seal around the opening known as the stoma. She found a manufacturer to help, and distributed 1,000 ostomy bags to hospitals. Two years later, they were exporting two-thirds of the bags, and Coloplast was born.
"Every day at Coloplast, we find new inspiration in the story of Elise Sorenson — her passion, skills and love for her sister," CEO Lars Rasmussen said in a video on the company's website. "Our mission is to make life easier for people with intimate health care needs. We focus on easing the challenges of deeply private and personal medical conditions."
---
"Our mission is to make life easier for people with intimate health care needs. We focus on easing the challenges of deeply private and personal medical conditions."

- Lars Rasumussen, Coloplast CEO
---
Ostomy care is Coloplast's largest business area, followed by continence care and then urology and finally skin and wound care. Europe is its largest market.
Coloplast Acquisitions
Coloplast bought the urology division of Mentor Corp. in 2006 for $463 million and relocated its North American headquarters operations from Atlanta and Santa Barbara, California, to Minneapolis — home of Mentor Urology.
In November 2016, it acquired Comfort Medical for $160 million. Comfort sells catheters and ostomy supplies directly to consumers. Its annual sales were $38 million before the acquisition.
In announcing the purchase, CEO Lars Rasmussen said the acquisition "fits very well into our overall consumer ambition for Coloplast in the U.S., securing continued access to innovative technology for end users. Comfort Medical has a strong patient acquisition model and an efficient and scalable setup in addition to a strong management team with a good culture fit to Coloplast."
Did You Know
The purchase of Comfort Medical fit in with Coloplast's focus on direct advertising to patients.
About six months before that purchase was made public, Rasmussen explained the company's direct-to-patient strategy to a reporter. Rasmussen told the Star Tribune that Coloplast was emphasizing consumer marketing of its products because people might be using the same product for 20 years after surgery and not know there were different, better options available. He said Coloplast is an innovator that brings more new products to the market than any other company in the field. "We miss an opportunity if we don't present this to people who would like to use it if they knew it was there."
He denied the newer products have a higher profit margin, saying often they are priced the same as older options.
The purchase of Comfort Medical fit in with that Coloplast focus, with Comfort Medical's business model centered on direct advertising to patients, along with physician referrals. "I am excited about the future prospects of our U.S. business and view this acquisition as an additional building block in the implementation of our U.S. strategy," Rasmussen said in the acquisition announcement.
The company today has production facilities in Denmark, Hungary, France, China and the U.S., with the vast majority of its sales in Europe. It is traded on the Danish Stock Exchange.
Coloplast's Legal Issues
Coloplast has had to set aside hundreds of millions of dollars to settle transvaginal mesh lawsuits.
The company has run into some problems in the U.S., notably having to set aside hundreds of millions of dollars to settle transvaginal mesh lawsuits brought by women who said they were injured by the company's products used in pelvic surgery for incontinence and pelvic organ prolapse. In 2015/2016, the company's annual report says it paid out $113 million in what it calls special items, which include the costs in connection with the transvaginal mesh litigation. No other items are listed in that entry.
Coloplast was part of a group of companies that participated in an $11.5 million settlement in 2016 to 2,000 transvaginal mesh claims in California. In 2014, the company said it would settle about 400 mesh lawsuits for $16 million. By 2017, the company faced fewer than 500 remaining cases.
In the Star Tribune interview, CEO Rasmussen addressed the troublesome history of pelvic mesh devices, which the company continues to sell. Rasmussen said the company's current products incorporate the U.S. Food and Drug Administration's safety updates. "In that sense, we feel that the products are safe," he said. "Otherwise, we would never sell them."
The company also had to pay nearly $3.2 million in 2015 to resolve claims in federal court that it paid kickbacks to medical suppliers. According to the U.S. Department of Justice, Coloplast's promotional campaigns included funding in the form of cash incentives, called "spiffs," paid to suppliers' sales personnel to induce them to refer patients to Coloplast products. Also, the company was accused of giving rebates or price concessions.
"The payment of kickbacks to induce purchases of medical supplies undermines our federal health care programs, ultimately distorting consumer purchasing decisions, and increasing health care costs," said U. S. Attorney Carmen M. Ortiz. "Investigating claims of misguided business practices, at the expense of patient health, will continue to be a top priority in our healthcare enforcement efforts."
---
"The payment of kickbacks to induce purchases of medical supplies undermines our federal health care programs, ultimately distorting consumer purchasing decisions, and increasing health care costs."

- Carmen M. Ortiz, U.S. Attorney
---
In 2016, the company paid $600,000 to the federal government to settle allegations it missed deadlines in 2013, 2014, and 2015 for reporting price information on its therapeutic skin-care lotions and ointments to state-run Medicaid programs, according to a report in the Star Tribune in Minneapolis. The accusations were made by the Office of Inspector General for the U.S. Department of Health and Human Services.
Coloplast paid another $600,000 to Minneapolis in 2014 for failing to fill job-creation goals after receiving $3 million in local and state aid for relocating its state-of-the-art headquarters there. Out of 100 city residents the company was supposed to hire, it had hired 59 at its new $39 million headquarters.
In January 2017, a federal judge in New Orleans dismissed a lawsuit against Coloplast by a man who said he was injured by his penile implant. The judge granted the corporation's motion to dismiss on the grounds the case was preempted by the Medical Device Amendments to the Food, Drug and Cosmetic Act.
Please seek the advice of a medical professional before making health care decisions.
Author
Elaine Silvestrini is a career journalist with a strong desire to learn, explain, and help people. At Drugwatch, Elaine has reported about trials over whether talcum powder caused ovarian cancer and allegations that Androgel causes heart problems in patients who use it. She has chronicled the billions of dollars generated for big pharmaceutical companies by certain drugs and efforts to warn consumers about the dangers of specific medical problems. Elaine has received six health literacy certificates for completing courses offered by the Centers for Disease Control and Prevention. She brings more than 20 years of experience covering state and federal court systems, learning the intricacies of criminal and civil law, developing investigative pieces about how the law affects people's lives and digging through and digesting reams of court records on a daily basis.
---