Since three Johnson brothers founded it in 1886, J&J has built a health care empire that includes prescription and over-the-counter drugs, orthopedic implants, surgical products and household products. The most popular brands include Band-Aids, Tylenol, Johnson's Baby Powder and Acuvue contact lenses.
While J&J is famous for its consumer health care products such as baby powder, 91 percent of its revenue comes from prescription drugs and medical devices.
The company is broken into three divisions: consumer health care, medical devices and diagnostics, and pharmaceuticals. The company has approximately 250 subsidiaries, including Cilag, DePuy, Ethicon, Janssen, McNeil and Neutrogena.
J&J is also one of the most admired drug companies. In 2017, it ranked 13 in Fortune's Most Admired Companies list — the only drug company to crack the top 50.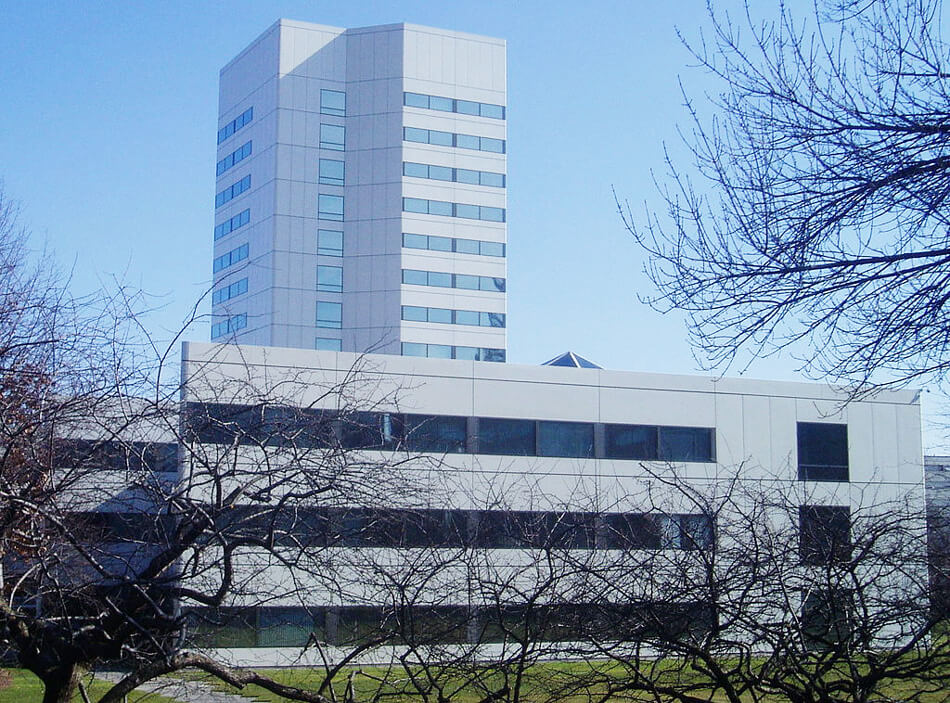 Johnson & Johnson Headquarters in New Brunswick, New Jersey
The health care giant professes to put the people before profits. Its mission statement, called "Our Credo," begins with, "We believe our first responsibility is to the doctors, nurses and patients, to mothers and fathers and all others who use our products and services."
But those harmed by the megacorporation's products might question this credo.
Despite J&J's accolades and its success, the company has also had its fair share of scandals, government investigations, drug and device recalls and lawsuits related to products that injured thousands of people.
In fact, a notable investigation by Steven Brill for Huffington Post Highline called J&J "America's most admired lawbreaker."
The History of Johnson & Johnson
Three Johnson brothers — Robert, James and Edward — founded the company in 1886 in New Brunswick, New Jersey. Their initial focus was on bandages, sterile sutures, wound care and baby products. Their first-aid kits, originally sold to railroad workers, would later become a staple in nearly every household. They also sold women's health products, including sanitary protection products and maternity kits with first-aid products to assist in home births. J&J celebrated its 130th anniversary in 2016.
Band-Aids and Baby Powder
J&J employee Earle Dickson invented Band-Aid adhesive bandages in 1920, the first self-applied dressing for small wounds sold commercially.
Frederick Kilmer, the director of J&J's Scientific Affairs from 1889 to 1934, was renowned for pitching antiseptic methods for treating wounds. He distributed a booklet with a summary of doctor and surgeon views on wound care. Another of his accomplishments was marketing talcum powder to soothe skin and selling it as baby powder.
Birth Control Revolution
From 1963 to 1973, under the leadership of then-CEO Philip Hofmann, J&J sold birth control and personal care products and a treatment for schizophrenia. Early on, J&J subsidiary Ortho developed the first prescription contraceptive gel. And in 1963, Ortho manufactured birth control pills called Ortho-Novum, which helped launch the birth-control pill revolution in the United States.
The Birth of an Iconic Pain Reliever
J&J acquired two key companies in 1959: Cilag Chemie in Europe and McNeil Laboratories in the United States. McNeil developed the first aspirin-free pain reliever, Tylenol Children's Elixir.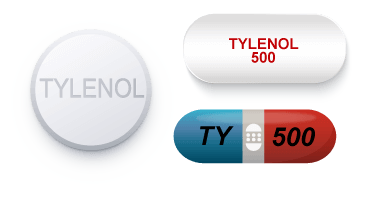 Tylenol comes in various pill and capsule forms
A year later, the medication was available over the counter and became the most recommended pain reliever by pediatricians.
The next year, J&J marketed the drug to adults. By the 1980s, Tylenol was the leading pain-killer medication in the U.S. The drug remains one of J&J's most iconic, recognizable brands. Its active ingredient, acetaminophen, is included in a number of over-the-counter and prescription medications.
Janssen, Ethicon and DePuy Orthopaedics
In 1961, J&J acquired Janssen Pharmaceuticals, which had begun as a small research laboratory in Belgium in 1953. Dr. Paul Janssen and his team discovered new medications to treat pain, help with mental illness, fight infection and treat digestive problems. Janssen is known as one of the most innovative and prolific researchers of the 20th century. His discoveries include Fentanyl (an anesthetic), Reasec (diarrhea treatment) and Haldol (schizophrenia) — which enabled patients to live at home rather than in an institution.
J&J's subsidiaries Ethicon and DePuy Orthopaedics allowed the company to expand into surgical products and orthopedic implants.
Janssen Pharmaceuticals became J&J's marketer and manufacturer of blockbuster prescription drugs including Invokana (canagliflozin) for Type 2 diabetes, Risperdal (risperidone) an antipsychotic and Xarelto (rivaroxiban) a blood thinner.
J&J started Ethicon as a suture business in 1949. One of Ethicon's innovative products was a disposable skin stapler which allowed the company to enter the mechanical wound closure business. Throughout the 1990s, Ethicon developed minimally invasive surgery techniques, where small incisions allow patients to heal quicker. One of these tools for minimally invasive surgery — the power morcellator — helped surgeons perform complex surgeries with less blood loss and shorter recovery times.
DePuy Orthopaedics joined the long list of J&J subsidiaries in 1998 when the drug maker bought the medical device company for $3.5 billion. DePuy manufactures hip and knee implants and other medical devices.
Stents and HIV Treatment
Another surgical endeavor J&J invested in was the Palmaz-Schatz stent, the first coronary stent. Julio Palmaz designed the stent and sold the patent to J&J. J&J provided the funds to finish developing the idea and then market it. This new product kept vessels open to allow blood to reach the heart, and revolutionized cardiology.
J&J purchased Pfizer's consumer health care unit in 2006, bringing in products such as Listerine for bad breath, Lubriderm for dry skin, Rogaine for hair loss, Bengay for sore muscles and more.
The company remains focused on global concerns such as HIV/AIDS. It acquired Tibotec-Virco BVBA, a company dedicated to helping people with HIV/AIDS, tuberculosis and other infectious diseases, in 2002.
The Tylenol Crisis
The Tylenol Crisis of 1982 was one of J&J's most challenging recalls. It also provided a blueprint for future mass recalls. The company showed it was a master at reputation management in the face of bad publicity. In 1982, seven people in Chicago died after taking Extra-Strength Tylenol laced with cyanide. According to reports, an unknown suspect took the product from shelves, added cyanide and returned the products to the shelves.
Tylenol Recall
J&J recalled 31 million bottles of Tylenol at a loss of more than $100 million.
J&J immediately recalled 31 million bottles of Tylenol at a loss of more than $100 million, but never discovered who had tampered with the seven bottles.
Tylenol had 37 percent of the pain-reliever market prior to the crisis. After, it fell to 7 percent. To recover from the massive blow to its reputation, J&J reintroduced Tylenol with tamper-resistant packaging, offered discounts and sent an army of more than 2,200 salespeople to doctors' offices to restore confidence in the product. After J&J's efforts, Tylenol regained most of its market share, climbing to 30 percent.
Then CEO James E. Burke got credit for leading the company through the crisis and restoring Tylenol's reputation.
The Risperdal Controversy
J&J's antipsychotic Risperdal (risperidone) made billions for the company. It also saddled them with thousands of lawsuits, including a criminal fine of $334 million for questionable marketing tactics. Documents revealed in lawsuits show how the company encouraged its sales staff to illegally target doctors and clinics that treated children and the elderly — knowing that the drug could kill seniors and wasn't proven safe or effective in children.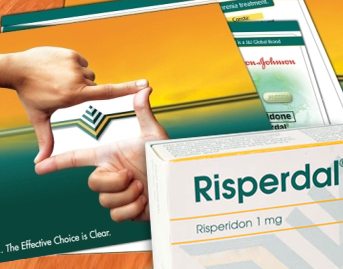 J&J created Risperdal to make up for Haldol's loss of patent
It all began in 1986 when J&J's profitable antipsychotic Haldol (haloperidol) lost patent. The company needed another multibillion-dollar blockbuster drug to replace its lost revenue. Risperdal was the answer. However, the FDA only approved the drug for use in schizophrenic adults — a very small part of the population. In order for the drug to be successful, millions of people would have to use it.
J&J knew it had to sell its drugs for additional uses to the elderly and children.
The drug giant wanted to market Risperdal as superior to Haldol and include comparisons on Risperdal's drug label. The FDA disagreed. Dr. Robert Temple, an FDA clinical trial specialist, called the strategy unacceptable because it would lead "to the conclusion that Risperdal has been shown to be superior to [Haldol] when, in fact, it has not."
The FDA's stance didn't stop J&J from continuing to propose Risperdal for use in the elderly and children. The FDA continued to refuse to allow these uses on the drug's label. In fact, Risperdal's early clinical trials in children and the elderly found a high number of side effects, some serious — including an increased risk of stroke and heart-related problems in the elderly.
Selling Risperdal to Doctors and Nursing Homes
If J&J couldn't get FDA approval, it would make its sales goal by using doctors to recommend it to their patients. While manufacturers cannot legally market a drug for off label — a use not approved by the FDA — doctors are allowed to prescribe a drug for any use.
Then Risperdal Sales Manager Alex Gorsky led the sales team and provided strategy to sell Risperdal. Gorsky is now the company's CEO.
---
"We started looking hard for ways to go after these customers — pediatricians, nursing home doctors, mental health facilities, even school guidance counselors. We had to."

- a former Janssen salesman told journalist Steven Brill
---
J&J began paying doctors in 1995 to push Risperdal and get it put on preferred Medicaid drug lists, and it worked. For example, in Texas, Medicaid spent $250 per patient with generic Haldol. After J&J pushed Risperdal in 1999, it spent $3,000 per patient.
Risperdal salespeople then went into nursing homes and the offices of pediatric psychiatrists. They paid millions of dollars in rebates and fees to Omnicare pharmacists in return for Risperdal sales to nursing homes. Salespeople urged doctors to prescribe Risperdal in exchange for paid speaking engagements.
They distributed literature saying that Risperdal was safe and effective for "treating hostility in the elderly." The company also minimized any mention of side effects including a large number of deaths.
By the end of 2000, Risperdal made $1.08 billion a year for J&J. About half of the sales came from selling the drug to children and the elderly.
J&J Guilty of Misbranding Risperdal
For over a decade, J&J reaped the benefits of misbranding Risperdal, raking in billions.
In 2013, the Department of Justice ordered J&J to pay more than $2.2 billion "to resolve criminal and civil liability arising from allegations relating to the prescription drugs Risperdal, Invega and Natrecor, including promotion for uses not approved as safe and effective by the Food and Drug Administration (FDA) and payment of kickbacks to physicians and to the nation's largest long-term care pharmacy provider."
J&J's Janssen unit "Janssen admitted that it promoted Risperdal to health care providers for treatment of psychotic symptoms and associated behavioral disturbances exhibited by elderly, non-schizophrenic dementia patients."
It did not admit guilt in pushing the drug to children, but it agreed to pay fines associated with the charge.
The company also faces close to 17,000 lawsuits filed by the families of children who say the drug caused gynecomastia — female breast growth in boys.
J&J's Problematic Drugs and Medical Devices
Risperdal wasn't the only problematic J&J product. Among the millions of products Johnson & Johnson sold over the years, several pose a serious risk to consumers. In lawsuits, internal documents surfaced showing J&J and its subsidiaries knew about problems but sold the products anyway.
After reports of complications from consumers and physicians, the FDA, legal experts and patients themselves have taken action against J&J. The company faces more than 100,000 lawsuits for its defective products.
DePuy, J&J's medical device subsidiary, was one of the first device manufacturers to use a metal-on-metal hip design. It introduced the Pinnacle Hip Replacement System in 2000, the ASR Hip Resurfacing System (sold internationally) in 2003 and the ASR XL Acetabular System in 2005. DePuy Pinnacle systems have been used in up to 40,000 U.S. patients, as have 37,000 ASR products.
But the metal ball and cup components rub together and can release metal ions into the bloodstream, causing metallosis, or metal poisoning. Patients may also experience loosening of the implant or joint dislocation, and may require additional surgeries.
Because of problems with the implants and serious injuries to patients, the FDA investigated ASR and Pinnacle implants. DePuy recalled the ASR implants and discontinued the Pinnacle implants.
In the late 1990s, Ethicon and several other device manufacturers introduced vaginal mesh implants. These products were designed to treat pelvic organ prolapse (POP) and stress urinary incontinence (SUI), conditions experienced by older women following menopause, childbirth or a hysterectomy. In 2010, nearly 300,000 U.S. women received a transvaginal mesh implant.
Many women experienced debilitating side effects from the implants, including perforation of organs, vaginal bleeding and scarring, mesh erosion and severe pain. Ethicon stopped manufacturing several of its mesh products in August 2012, including its Gynecare Prolift Kit, Gynecare Prolift + M Kit, Gynecare TVT Secure and Gynecare Prosima Pelvic Floor Repair System Kit.
Internal documents unsealed as a result of litigation in 2012 suggest J&J sold its Prolift+M mesh in 2007 without proper FDA clearance. In fact, the FDA requested J&J stop selling the device, but the company left it on the market. The FDA finally cleared the device in 2008, but it did not take corrective action against the device maker, Bloomberg reported.
Ethicon is one of a number of companies that manufactured power morellators. The devices used during hysterectomies and fibroid surgeries in women can cause hidden uterine cancer to spread. The result can be a rapid development of the disease, which can be deadly.
The FDA warned the morcellators could increase the development of cancer in women in 2014, and J&J pulled its devices from the market the same year. In early 2015, the Federal Bureau of Investigation began an investigation into the company's knowledge of the device's risks.
The Government Accountability Office also began an investigation into the FDA's clearance of the devices after members of Congress claimed the devices may have harmed thousands of women.
Invokana, Invokamet and Invokamet XR
Janssen developed the Type 2 diabetes drug Invokana, the first sodium-glucose co-transporter 2 (SGLT2) inhibitor to receive FDA approval.
Approved in 2013, the FDA began noticing problems with Invokana in 2015. The agency warned SGLT2 inhibitors can cause a deadly condition called ketoacidosis in which the body produces dangerous acids called ketones.
The FDA has since issued several more safety communications for Invokana including a black box warning for an increased risk of foot and leg amputations.
J&J's Multibillion-dollar Drug Pipeline
Legal worries and controversy has not slowed the drug giant. In May 2017, J&J announced it had 11 new drugs in its development pipeline with billion-dollar potential.
Some of the diseases these drugs could treat include depression, prostate cancer, solid tumors, rheumatoid arthritis, psoriasis and influenza.
The drugmaker says the FDA has not yet approved these drugs, but they could be well on their way to megadrug status by 2021.
Please seek the advice of a medical professional before making health care decisions.
Author
Michelle Y. Llamas is a senior content writer. She is also the host of Drugwatch Podcast where she interviews medical experts as well as patients affected by drugs and medical devices. She has written medical and legal content for several years — including an article in The Journal of Palliative Medicine and an academic book review for Nova Science Publishers. With Drugwatch, she has developed relationships with legal and medical professionals as well as with several patients and support groups. Prior to writing for Drugwatch, she spent several years as a legal assistant for a personal injury law firm in Orlando. She obtained her English – Technical Communication degree from the University of Central Florida. She is a committee member with the American Medical Writers Association.
---