Shoulder Injury Related to Vaccine Administration: SIRVA
Shoulder injury related to vaccine administration (SIRVA) is a complication of getting vaccines in the upper arm. Symptoms include shoulder pain and trouble moving the arm. People with SIRVA may file a claim for compensation with the National Vaccine Injury Compensation Program (VICP).
Shoulder injury related to vaccine administration, or SIRVA, is a long-lasting and debilitating shoulder injury that occurs after getting a vaccine.
People with SIRVA may notice shoulder pain and difficulty using their shoulder and arm immediately after receiving a vaccine, according to the Centers for Disease Control and Prevention.
In February 2017, the National Vaccine Injury Compensation Program (VICP) added SIRVA to its revised Vaccine Injury Table. This means people who experience shoulder injury related to vaccine administration may be eligible for compensation.
Between 2011 and 2014, VICP paid $22,054,673.70 to resolve 136 cases of alleged upper extremity injury.
How SIRVA Occurs
Improper shot administration causes SIRVA. Vaccination given too high on the arm was the most commonly reported contributing factor.
Researchers think injecting the vaccine too high on the arm may trigger symptoms of an inflammatory reaction. This occurs when the shot goes into the tendons, ligaments or fluid sack (bursa) around the joint instead of the muscle.
Other reported contributing factors include uneven position between vaccinator and patient (standing vs. sitting), history of shoulder pain and "too long" of a needle.
"A vaccine is an immunologically sensitive substance, and if you were to receive an injection too high – in the wrong place – you could get pain, swelling and reduced range of motion in that area."
Shoulder injuries from poor vaccine administration include rotator-cuff injuries, frozen shoulder (adhesive capsulitis), tendinitis, shoulder bursitis and brachial neuritis.
These injuries can be debilitating and interfere with daily activities.
SIRVA Symptoms
The most common symptoms of SIRVA are arm and shoulder pain, and decreased range of motion. These occur within 48 hours of receiving a vaccine and last for more than a week.
From 2006 to 2010, VICP received 13 SIRVA claims, according to a 2015 report by the Advisory Commission on Childhood Vaccines.
More than 90 percent of claims involved shoulder pain less than 24 hours after getting a shot. In 54 percent of cases, the pain started immediately after vaccination.
Symptoms of SIRVA include:
Arm and shoulder pain
Limited range of motion; restricted movements; limited flexibility
Weakness
Chronic inflammation (swelling)
Difficulty lifting, carrying or driving
Swelling
Difficulty sleeping because of shoulder pain
How Long Does SIRVA Last?
SIRVA symptoms can last anywhere from six months to several years, according to studies presented by the Advisory Commission on Childhood Vaccines in 2015.
Why Does My Arm Hurt After a Shot?
Not all pain in the arm or shoulder is SIRVA. Some pain, soreness, irritation, redness or swelling is common at the vaccine injection site and in the shoulder.
Some experts say this is a side effect of the body building up an immune response.
For example, about three in four adolescents or two in three adults reported pain at the injection site with Tdap (tetanus, diphtheria and pertussis) vaccine, according to the CDC. This usually goes away on its own in a day or two.
But shoulder pain that does not go away, gradually worsens or restricts movement, may indicate SIRVA.
Most commonly reported shoulder problems after flu vaccine, 2010 - 2016
| Most commonly reported shoulder dysfunction-related adverse events(N=1,006 total reports) | N (%) |
| --- | --- |
| Shoulder Pain | 442 (44) |
| Injected limb mobility decreased | 407 (41) |
| Joint range of motion decreased | 191 (19) |
| Drug administered at inappropriate site | 156 (16) |
| Bursitis | 94 (9) |
| Arthralgia | 92 (9) |
| Rotator cuff syndrome | 90 (9) |
| Frozen Shoulder | 57 (6) |
| Shoulder bursitis | 30 (3) |
Flu Shot Sore Arm or Shoulder Pain
Because the flu vaccine is common and administered in the arm, the chances of getting a sore arm or shoulder pain after a flu shot are higher. But, SIRVA can occur with any vaccine administered in the upper arm.
From 2010 to 2016, the CDC received 2,198 reports of shoulder dysfunction after a flu shot.
Researchers determined about 1,006 were possible cases of SIRVA. About 829 of these reports came from females.
More than half of those in the SIRVA group said the pain affected their daily activities. About a quarter of them said they missed work.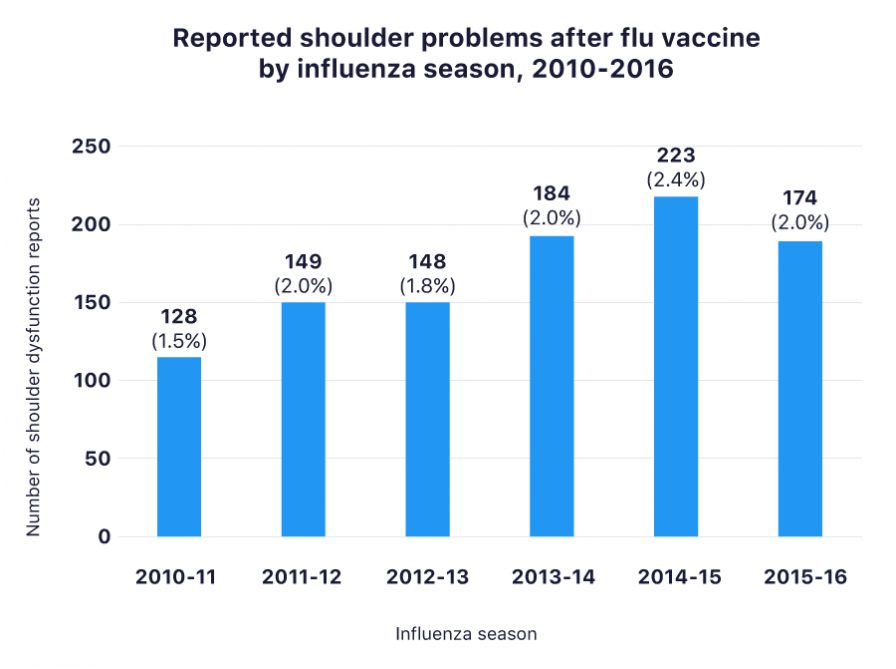 SIRVA Diagnosis
Health care providers use a few tests to diagnose SIRVA. It is a musculoskeletal injury and not a neurological injury.
Doctors will do a physical examination to check for pain and other symptoms. Typical signs doctors look for to diagnose SIRVA are inflammation around the joint and fluid buildup.
A person must have shoulder pain or decreased range of motion that lasts for several days after getting a shot. Patients must not have any pre-existing shoulder injuries.
Doctors will rule out other types of injuries with an MRI or X-ray.
SIRVA Treatment
SIRVA treatment may include cortisone injections, physical therapy or even surgery. What works for one patient may not work for another.
Treating and managing SIRVA can be expensive. In one 2014 case study published in Applied Radiology authors showed concern for the cost of SIRVA treatment.
"Our patient's initial 'free' flu shot resulted in more than $18,000 of healthcare charges, not including the follow-up MRI and office appointments with her orthopedic surgeon," authors wrote. "Fortunately, our patient has insurance and had to only pay about 20% of the cost out-of-pocket, unlike thousands of uninsured Americans receiving yearly vaccinations at local pharmacies and clinics nationwide."
Some patients may have SIRVA symptoms for years even with treatment. In extreme cases, doctors may perform surgery to remove inflamed tissue.
Preventing SIRVA
Correct vaccine administration can prevent SIRVA. The CDC has some recommendations for giving and receiving shots.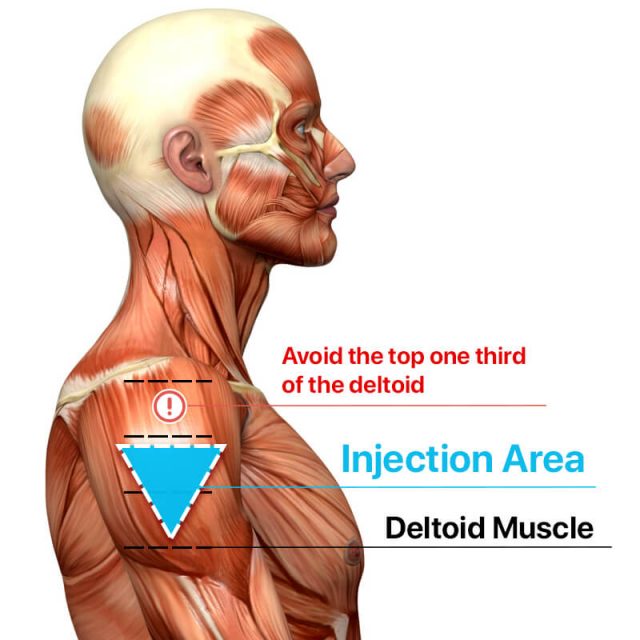 CDC Recommendations for Proper Vaccine Administration
Vaccine administrators should avoid the top one third of the deltoid muscle. They should aim for the thickest portion of the muscle.
The needle size should be appropriate to the size of the patient. Usually 5/8 to 1 ¼ inches for patients one year old and older.
The needle should go into the arm at an angle of 90 degrees.
The vaccine administrator should be at the same level as the patient. For example, both should be sitting.
Patients should pull their shirtsleeve up to expose the thickest part of the upper arm.
Please seek the advice of a medical professional before making health care decisions.
How helpful was this page?
How can we improve this page?
How can we improve this page?